If you have been injured at work and suffered a temporary or permanently disabling injury, you may be eligible to receive workers' compensation benefits. At Harris & Harris, we have specialized workers' compensation attorneys in Las Vegas to help you now!
People who are injured at work must deal with the physical limitations of an injury. Injuries can be so severe, they can prevent the victim from performing their duties at the same level, or at all – temporarily or permanently.
Harris & Harris Injury Lawyers serve clients in Nevada, California, Arizona, and Utah. If you would like to discuss a work injury claim with a Las Vegas workers' compensation lawyer at our law firm, please contact our office.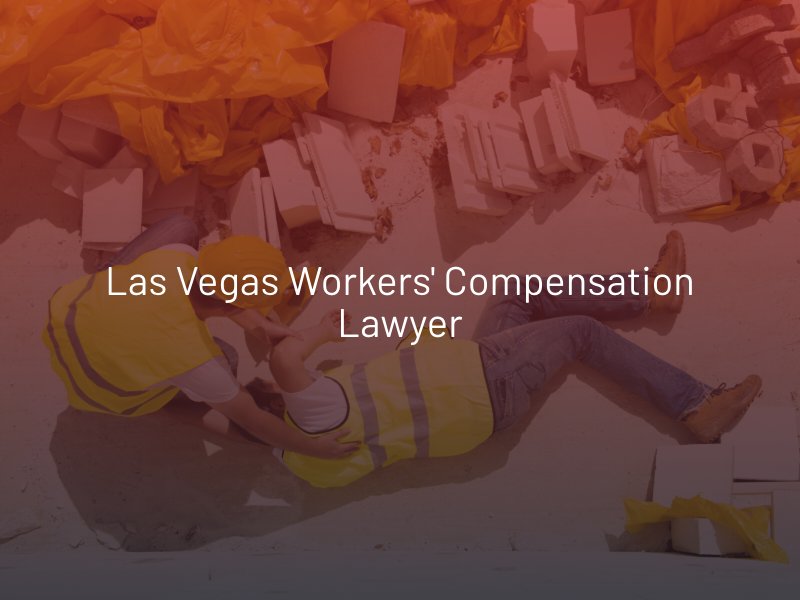 What Kinds of Injuries and Diseases Are Covered Under Nevada Workers' Compensation?
Generally, any injury or disease arising out of and occurring in the course of employment that causes the need for medical treatment or disability is covered under Nevada workers' compensation. Negligence or fault on behalf of the employer is not required to be proven. An employee may suffer an injury as the result of a single incident, for example, a fall. On the other hand, the injury may occur as the result of repetitive motions, such as carpal tunnel syndrome. Common accidents and injuries that result in workers' compensation claims are: 
Construction accidents

: falls from heights, crushed by or against an object.

Auto accidents

: while in a company vehicle for a work-related purpose.

Slip and fall accidents

: back and neck, shoulder, and knee injuries.

Factory accidents

: loss of limbs or digits, exposure to chemical/toxic materials. 

Repetitive motion accidents

: joint/muscle damage or loss of hearing/vision. 

Traumatic brain injuries
No matter what type of injury you suffer, it is important to seek immediate treatment from a qualified medical professional who can confirm that the injury is work-related. Non-occupational diseases, such as the common cold or flu, are not compensable since they can be contracted anywhere and not necessarily at the place of employment.
What Type of Workers' Compensation Benefits Can I Receive?
Income Benefits – Income benefits may be disbursed for temporary partial disability (TPD), temporary total disability (TTD), permanent total disability (PTD), or permanent partial disability (PPD) to compensate for lost wages incurred as a result of a workplace injury.
Medical Expenses – Worker's compensation covers medical benefits incurred because of the work-related injury – including hospital expenses, physical therapy, vocational rehabilitation, transportation to medical appointments, orthotics (or medical devices) and other medical treatments.
Death Benefits – When a loved one passes away in a work-related accident, workers' compensation benefits provide compensation to surviving beneficiaries for lost wages, medical bills incurred before death and funeral expenses.
Many clients come to us with the most serious of injuries, from spinal cord injuries to losing a limb, we have seen it all. When the extent of injuries is catastrophic in nature, the workers' compensation system is often inadequate to fully compensate you. Our Las Vegas workers' compensation attorneys will help to recover the full value of your case by reviewing all angles of the workplace accident and determining all avenues of recovery. We will also fight for your workers' compensation claim if you were wrongfully denied benefits.
In certain instances, a third-party liability claim, such as a product liability claim against a defective product manufacturer, may provide the necessary compensation you need. To learn more about product liability claims in Nevada, speak to a Las Vegas product liability lawyer.
How to File a Workers Comp Claim in Las Vegas, NV
Report your injury

. First notify your employer within and the Human Resources department should provide you with a C-1 Notice of Injury form to fill out. List every body part that has suffered an injury and return these forms within seven days of the accident. Your employer will then submit your request to their insurance company that provides workers' comp coverage.

Seek medical care

. Immediately see a physician that is authorized under your employer's workman's compensation policy. They will provide you with a C-4 form, on which to list all of your injured body parts once again. The medical provider will fill out the rest of the form before sending it to your employer's insurance carrier. 

Approval or Denial

. If your claim is approved, then you should receive benefits. However, if your claim is denied, you will need to request a hearing to present the issue before a hearing officer. A ruling will then be made that either affirms or reverses the denial to grant you compensation. 
Workers' Compensation May Not Be Enough
While workers' compensation insurance is an important safety net for injured workers, workers' comp benefits do not fully reimburse a worker for all lost wages or pain and suffering. If your injuries were caused by a negligent party that was NOT your employer or another employee of your company, you may be able to bring a personal injury suit against that party under Nevada law with the help of a Las Vegas personal injury lawyer.
Examples of cases where a personal injury claim could apply:
Premises liability claims against a property owner, general contractor or property manager, if the job site where an employee works or visits in the course of work is unsafe
Product liability claims against the manufacturer and/or distributor of a defective product such as construction equipment that caused a construction accident, power tools, scaffolding, ladders, or appliances
Car or truck accident claims, if you or the other party was driving for work
Negligent Security claims, if you were physically or sexually assaulted while working in a hotel or casino or as a tour guide.
How Much Does a Las Vegas Workers' Compensation Attorney Charge?
Injured employees often hesitate to contact workers' compensation attorneys out of fear of the cost. However, many Las Vegas workers' compensation attorneys will represent you on a contingency basis. All case-related expenses (medical records, expert fees, depositions, etc.) will be advanced and reimbursement plus legal fees will only be charged once there has been monetary recovery.
Take advantage of the free case consultations that are typically offered to discuss what the financial terms of a contingency basis agreement would be. Our workers' compensation lawyers at Harris & Harris Injury Lawyers will never charge a single fee unless we secure compensation on your behalf. 
Contact a Las Vegas Workers' Compensation Attorney
If you have been injured at work and suffered a temporary or permanently disabling injury, you may be eligible to receive workers' compensation benefits through a workers' compensation claim. At Harris & Harris Injury Lawyers, we have specialized Las Vegas workers' comp lawyers that are ready to fight for you! Call our Las Vegas law firm now at (702) 384-1414  or contact us online for a free consultation. We can help injured Nevada workers recover through workers' compensation claims.