At Harris & Harris Injury Lawyers, we are here to help anyone injured in a casino due to the careless or negligent actions of the property owner or employees. Let our Las Vegas casino injury lawyers get to work on your case today.
Navigate This Page
Why Are Harris & Harris Injury Lawyers Ready For Your Case?
At Harris & Harris Injury Lawyers, we have been helping those injured in the Las Vegas community for more than 20 years.
Our personal injury attorneys develop close relationships with our clients.
Our casino injury attorneys do not hesitate to take a case to trial and spare no expenses in preparing to fight for you.
You will never pay any out-of-pocket expenses and owe no legal fees until we recover the financial compensation you deserve.
How Can a Casino Injury Attorney Benefit Your Case?
Casino injury cases, like other premises liability cases, can become very technical and complex. The most important part of these injury claims is establishing the defendant's liability. Your Las Vegas casino injury lawyer will work to:
Obtain video and photo surveillance of the incident.
Obtain your medical records from the incident and have you evaluated by a trusted healthcare professional.
Secure records from the business to look for a history of similar incidents.
Negotiate with the casino's legal team and insurance company to obtain a settlement that covers all of your injury-related expenses.
How Much is My Casino Accident Claim Worth?
Every casino accident claim is different, so it is essential to get a professional opinion on your specific case value from a Las Vegas casino accident lawyer who understands the unique nature of premises liability claims. However, the amount of compensation you can recover will typically depend on the following factors.
The severity of your injury
Your age and occupation
Any pre-existing injuries
The extent to which your injury has impacted your life and future (It is advisable to keep a diary or notes about your daily pain, symptoms, and limitations on daily tasks
and activities)
The number of expenses incurred due to the accident (e.g., hospital and medical bills, rehabilitation costs, prescription drug costs, lost wages, diminished earning
capacity, property damage, etc.)
The projected costs of future medical care
The pain and suffering you have and are experiencing, as well as emotional distress, loss of enjoyment of life, etc.
Permanent disability or disfigurement
The strength of evidence against the defendant (at-fault party)
The defendant's degree of negligence
Whether you were partially to blame
A successful casino accident claim requires careful documentation to prove the amount of compensation you are entitled to. The more documentation you have, the more severe your injury, and the higher your expenses related to the accident can dramatically impact your claim's worth.
How Liability Impacts a Casino Accident Case's Value
Under Nevada's modified comparative negligence law, each party's contribution to the accident will be assessed and assigned a percentage. Each party is held accountable for their share of the blame by reducing their compensation by their degree of fault in causing the accident. For example, if you are awarded $100,000 but found 40% at fault, you will only receive 60% of your award or $60,000. However, if you are found more than 50% to blame, you cannot recover any compensation.
When Should I File My Casino Injury Claim?
After a casino injury, consult an attorney as soon as possible. There is a time limit known as the "statute of limitations" for filing any type of personal injury lawsuit in Nevada. In most cases, victims harmed by a casino or hotel's negligent actions have only two years to file an injury claim. If you fail to do so within the allotted time, it will cost you your right to obtain any amount of compensation.
How Much Does a Las Vegas Casino Injury Lawyer Charge?
Most Las Vegas lawyers accept casino injury cases on a contingency fee basis. What that means is you do not have to pay any money upfront to retain an attorney as they will advance any costs to prepare and prosecute your claim. You will only be responsible for those costs if you win. If you recover compensation, a lawyer will typically take between 25 to 40 percent of your settlement or award as their legal fee plus court costs. In most cases, it will be 33% or one-third of your compensation, but the attorney's contingency fee may vary based on the work involved in your claim. For example, 33% if your case is relatively quickly resolved in a settlement or 40% if your case goes to trial.
Other attorneys may work on a sliding scale fee—for instance, 30 percent of any recovery up to $10,000; 20 percent of any recovery up to $50,000, etc. Be sure to discuss this topic with your casino accident lawyer to understand the exact amount you will be responsible for if you win.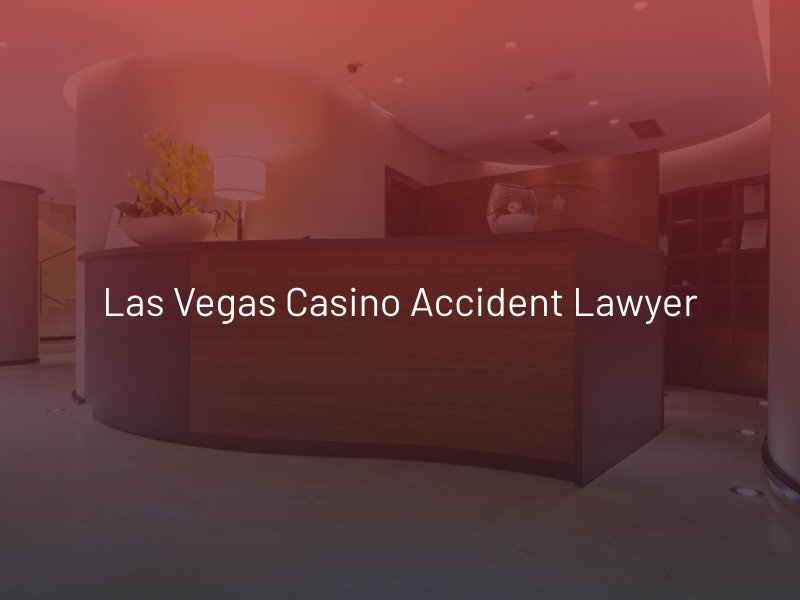 What are Common Causes of Casino Injuries?
If casino owners fail to take necessary precautions for patron safety, whether they are careless or trying to cut costs, they should be held liable for any injuries that occur from a casino accident. Some of the most common causes of casino injuries include:
Dangerous property conditions: Any type of unsafe condition in a casino or hotel can be considered negligent and can give rise to a personal injury claim—for example:

Staircase without handrails
Exposed electrical wiring
Unmarked construction
Failure to remove snow or ice
Cracked pavement
Holes in the parking lot
Lack of smoke detectors

All areas of the casino must be well-maintained, from the casino floor and hotel rooms to the elevators and escalators. Injuries often occur due to:

Torn carpet
Inadequate lighting
Defective flooring
Uneven stairs
Debris in walkways
Falling fixtures

Poorly maintained pool areas: The pool and hot tub areas should ensure that lifeguards are present and that the pool area is free from defects. Accidents often happen when a pool area is poorly maintained, a pool or jacuzzi is un-gated, lifeguards are not on duty, there is a lack of warning signs and rules, areas around the pool are slippery, the water is unsanitary and chemically unbalanced, or when hot tub temperatures are not properly maintained.
Slippery floors: Slip and fall injuries are common and usually preventable. All spills and leaks must be cleaned and prevented promptly to prevent a slip and fall accident. Slip and falls can also happen when a shower, toilet, or air conditioner leaks if salt or sand is not applied to icy sidewalks or when wet floor warning signs are not put out to warn guests.
Poorly run restaurants: Restaurant injuries can include patrons being burned at dinner, slip and fall incidents, food poisoning, and more. Accidents frequently happen due to spills not being immediately cleaned up, failure to warn of hot plates or food, poorly maintained fridges and freezers, failure to wash hands, failure to clean and disinfect the restaurant and food preparation areas, and more.
Over-serving customers: Las Vegas casinos should always be careful not to overserve guests who could then become a danger to themselves and the public. Overserved guests can slip or trip more easily, become belligerent and hurt others, or may get into a car accident if they attempt to drive.
Poor or negligent security: Casinos can become targets of crime due to the money that is present. Casino owners should always ensure they have security present to protect their assets as well as their guests. When multiple layers of security are not in place, from strong locks on hotel room doors to ensuring that security guards are in place who can deal with potential threats, guests can become victims of violent crimes. Hotels and casinos must also make sure there is adequate lighting, especially in parking garages, to assist in preventing assaults.
Common Casino and Hotel Injuries
The injuries typically sustained after a casino or hotel accident can be severe, with life-altering repercussions for victims. The most common types that occur include:
Strains and Sprains, Cuts and Scrapes
Casino and hotel patrons often suffer strains, cuts, or scrapes from slip, trip, and fall accidents, falling object incidents, or coming into contact with improperly stored equipment.
Back Injuries
Car accident victims suffer back injuries of all kinds, such as herniated or bulging discs, fractures, spinal cord injuries, paralysis, and others. These injuries often result in lifelong complications and chronic pain.
Traumatic Brain Injury
A traumatic brain injury (TBI) can range from mild to severe, but even a minor concussion can have long-term consequences. In extreme cases, victims can suffer permanent cognitive and physical impairments.
Bone Fractures
Broken arms, legs, ankles, ribs, and hips all frequently happen in casino and hotel accidents, especially if it involves a slip and fall. Fractures can take between weeks to several months to heal.
Burn Injuries
Burn injuries are surprisingly common due to scalding water from a shower or sink, overheated hot tubs, and malfunctioning appliances, such as hairdryers, irons, or coffee machines.
Scarring and Disfigurement
A severe burn or laceration can lead to long-term damage and may result in significant scarring.
Drownings and Other Water-Related Injuries
Drowning ranks fifth among the leading causes of unintentional injury death in the United States. About ten people die from unintentional drowning every day. Out of the ten, two are children aged 14 or younger.
Secondary infections from Bed Bug Bites
Bed bugs are not known to spread infections through their bites, but severe itching can cause open wounds, leading to an infection. If not treated properly, a victim may suffer secondary complications such as impetigo, lymphangitis, or ecthyma.
Food Poisoning
Guests can suffer food poisoning after consuming contaminated, spoiled, or toxic food. Often due to a hotel or casino restaurant being poorly operated.
Internal Bleeding
Any kind of blunt trauma from an accident can cause damage to internal organs. Internal bleeding is life-threatening if not treated immediately.
Sexual Assaults
Sexual assaults can happen in a casino or hotel at any time, with the risk being higher when there is no or less security.
Liability in a Casino Accident Case
Under Nevada law, casino and hotel owners are held to a very high standard of care when it comes to the safety of guests. They must keep their facilities safe by anticipating safety hazards and promptly remediating known dangers. Any failure to prevent or correct a hazardous situation means the casino or hotel can be held liable for any resulting injuries.
This duty of care extends to all areas of the premises, including common areas, guest rooms, meeting rooms, fitness centers, pools, restaurants, parking lots and garages, hotel-owned shuttles, etc. All possible precautions must be taken against foreseeable harm. "Foreseeable" means a reasonable person would be able to predict or expect a harmful result from their actions (e.g., a visitor slipping and falling due to a spill that isn't cleaned up). Under negligence law, injured guests can recover compensation from hotel and casino management or owners who fail to avoid foreseeable risks of physical injury.
We Will Work To Secure The Compensation You Deserve
If you or a loved one have been injured while on a Las Vegas hotel or casino property, you may need to seek legal assistance as soon as possible. At Harris & Harris Injury Lawyers, our Las Vegas casino injury attorneys understand casino accident cases and are ready to secure the financial compensation you deserve. This includes:
Your medical bills and expenses related to the incident
Lost income and benefits if you are unable to work
Loss of enjoyment of life and pain and suffering damages
Possible punitive damages against the casino owner(s)
If you lost a family member due to a casino accident in Las Vegas, speak with a wrongful death attorney to learn about your options to recover compensation under Nevada law.
Speak to a Las Vegas Casino Injury Lawyer Today
If you need a Las Vegas casino accident attorney after sustaining serious injuries, you can contact our law firm for a free consultation of your case by clicking here or by calling us at (702) 384-1414 or toll-free at 1 (800) 393-2350.