Some injuries are so severe that they alter every aspect of your life. If your injuries are caused by another person's careless or negligent actions, you should be entitled to compensation. At Harris & Harris Injury Lawyers, you can count on confident and skilled legal representation of a Las Vegas catastrophic injury lawyer.
Our Las Vegas catastrophic injury attorneys are ready to get to work securing the compensation you need to get through this difficult time.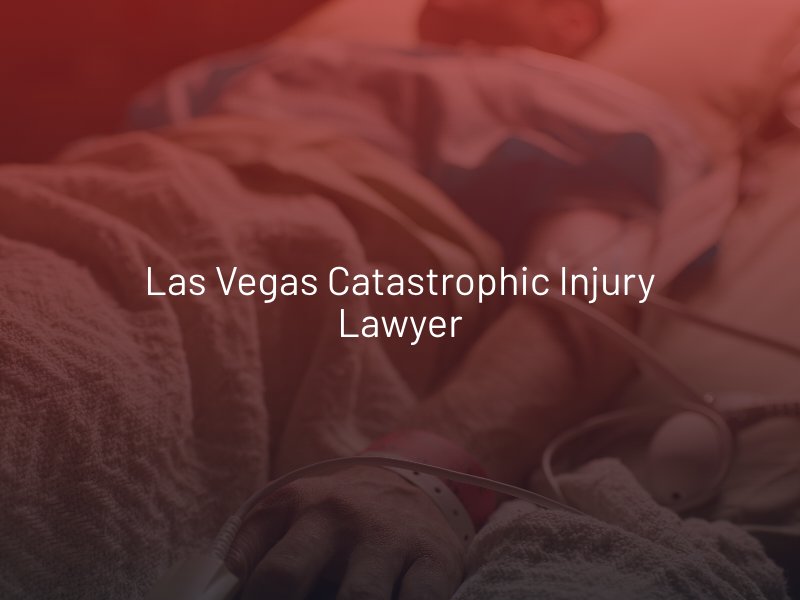 Why Are Harris & Harris Injury Lawyers Your Best Option?
If you've been seriously injured because of another person's actions, you need an injury attorney in Las Vegas you can trust both professionally and personally. Harris & Harris Injury Lawyers have been helping those injured in the Las Vegas community for more than 20 years.
Our goal is to provide every client with exceptional legal representation and excellent service.
Personal injury is all we do. Because of this, we have a comprehensive base of knowledge and experience that is invaluable in all Las Vegas personal injury cases.
We work on a contingency fee basis, meaning that you will pay nothing until we are successful with your case.
What Will An Attorney Do For a Catastrophic Injury Case?
Catastrophic injury cases can come very complicated. Your Las Vegas catastrophic injury attorney is going to be the one to establish liability for your injury. Your lawyer will understand how to gather the evidence necessary to prove what happened, including:
Your medical records
Accident reports
Eyewitness accounts
Photo and video surveillance
And more
A Las Vegas catastrophic injury lawyer will handle all settlement negotiations on your behalf and prepare your case for trial if necessary.
What are Catastrophic Injuries?
Catastrophic injuries are those that are considered to have long term, debilitating effects on victims. Those who suffer from these injuries often have long recovery times. In many cases, victims are permanently or temporarily disabled.
The following injuries can all be considered catastrophic:
Blindness
Disfiguring injuries
Hazardous substance or chemical exposure
Internal organ damage
Multiple bone fractures
Severe burns
Spinal cord injuries with paralysis
What Compensation Can I Recover for My Catastrophic Injuries?
If you were someone you care about have sustained a catastrophic injury that was caused by another person's careless or negligent actions, you need to seek legal assistance today. Harris & Harris Injury Lawyers are ready to investigate the incident in order to secure the compensation you deserve. This could include:
Economic Damages
Reimbursement for actual financial losses, for example:
Medical Costs: Your medical expenses related to the incident, including hospital stays, surgeries, doctor's appointments, physical rehabilitation, prescription medications, home modifications for disability, etc.
Future Medical Costs: Coverage of long-term care that is needed.
Lost Wages: Lost income and benefits if you are unable to work.
Diminished Earning Capacity: Compensation for the difference in the income you can earn now compared to before the accident.
Property Damage: The repair or replacement of any personal property damaged in the incident, such as your cell phone, tools, clothing, vehicle, etc.
Non-Economic Damages
Compensation for subjective losses, not an actual monetary loss, for instance:
Pain and Suffering: Compensation for the physical pain and suffering you have endured.
Emotional Distress: Any psychological conditions caused by the incident and your injury (e.g., depression, anxiety, insomnia, PTSD, etc.).
Loss of Enjoyment of Life Damages: If you cannot participate in activities you used to enjoy before your injury.
Disability: If your injury causes permanent physical impairments that impact your daily life.
Loss of consortium: A spouse typically recovers this type of compensation if the injury victim cannot provide the same love, affection, companionship, comfort, society, or sexual relations they were able to before the accident.
Punitive Damages
Possible punitive damages against those responsible, but this type of compensation is only available in cases involving a defendant who exhibited an extremely reckless disregard for the safety of others.
Catastrophic Injuries and Wrongful Death
When a catastrophic injury is fatal, the victim's surviving family has the right to pursue a wrongful death claim to hold the at-fault party accountable. The following parties in Nevada can file a wrongful death claim:
The personal representative of the deceased's estate
The surviving spouse or domestic partner
The deceased's children
Parents of the deceased person (if there is no surviving spouse or children)
Other dependents may be allowed to file a claim, but they must be able to prove their dependence on the deceased at the time of their death. For instance, stepchildren, stepparents, or an unrelated child who received support from the deceased for at least six months out of the year.
Wrongful Death Compensation
The types of compensation typically available in a catastrophic injury wrongful death claim include:
Medical expenses incurred due to the deceased's fatal illness or injury
Funeral and burial expenses
Loss of expected income and benefits
Loss of companionship
Mental suffering
Loss of provided services
And more
If the defendant acted maliciously or extremely reckless, punitive damages may also be awarded.
How Long Do I Have to File an Injury Case in Nevada?
Catastrophic injury victims have a limited amount of time to file a claim by law. Under Nevada's statute of limitations (Nev. Rev. Stat. § 11.190(4)(e)) states that personal injury claims must be filed within two years from the date of injury. If you fail to pursue a claim within that time, your case will most likely be dismissed, and you will be barred from obtaining any compensation. Two years may sound like a long time, but it is critical to begin the process of building your case as soon as possible. Evidence can disappear, and witnesses' memories will fade. As a result, your attorney must investigate immediately to determine who is liable and collect critical evidence to support your claim. Additionally, the more time your lawyer has to draft your lawsuit, file it with the clerk and serve on the defendant(s) (at-fault parties), the better.
In certain situations, the statute of limitations may vary. For example, when a catastrophic injury results from medical malpractice, a victim has three years from the date of injury. Additionally, if the victim is a minor (under 18), except in medical malpractice cases, the statute of limitations is delayed until they reach 18.
What are the Causes of Catastrophic Injuries?
These injuries happen in various ways. Our Las Vegas catastrophic injury lawyers commonly helped victims who have been injured due to the following:
Automobile accidents
DUI accidents
Rideshare accidents
Pedestrian accidents
Bicycle accidents
Construction accidents
Truck accidents
Golf cart accident
ATV accidents
Not only do victims of catastrophic injuries have to deal with massive medical bills, but they also have to deal with the impact of lost income on their families.
Nevada Damage Caps
Nevada does not have a law in place that caps the amount of compensation you can receive for compensatory damages (economic and non-economic damages) unless the defendant is a government employee (NRS 41.035). In those catastrophic injury cases, there is a cap of $200,000. For example, if you are involved in a car accident caused by a government employee while they are performing a job duty, the amount of compensation you can recover cannot exceed $200,000. That cap does not apply to punitive damages, but they may not be awarded in injury claims against the government.
When a catastrophic injury case involves medical malpractice, the state does not impose a cap on economic damages (e.g., medical bills, lost wages, etc.) but does limit non-economic damages (e.g., pain and suffering) to $350,000. As a result, that amount is the maximum you can receive for non-economic damages under NRS 41A.035 in a medical malpractice claim, regardless of the number of plaintiffs or defendants.
Punitive Damages Cap
Punitive damages are awarded in very few cases, but they are capped in many catastrophic injury claims. The cap is based on the amount of compensatory damages (economic and non-economic damages) you recover.
If the amount of compensatory damages you are awarded is less than $100,000, the punitive damages cap is $300,000.
If the amount of compensatory damages you are awarded is $100,000 or more, the punitive damages cap is three times the amount of compensatory damages awarded.
However, there are some exceptions when the cap on punitive damages does not apply. For example, when a catastrophic injury claim involves a defective product, toxic or radioactive material or waste, or motor vehicle accidents caused by intoxicated drivers.
Should I Accept a Settlement Offer After a Catastrophic Injury?
Since catastrophic injuries are devastating both physically and financially, it is critical to wait on settling your case until you recover or reach maximum medical improvement (MMI). Although it can be tempting to accept the quick cash when finances are strained, it is vital to at least wait on signing any paperwork until you consult a Las Vegas catastrophic injury attorney. The at-fault party's insurance company may quickly offer you a settlement in an attempt to resolve your claim as soon as possible. The offer will typically be in the form of a letter with instructions to sign and return a release of liability to receive a check. However, an insurer's initial settlement offer will typically be much lower than your claim's worth, as their goal is to pay as little money as possible.
Once you agree to a settlement and sign the form, you give up your right to sue the at-fault party and pursue any further compensation. By waiting, you will have a much better understanding of the full extent of your injury and its current and future physical and financial implications. Otherwise, you can end up with much less compensation than you need to remain financially stable while you recover.
What to Do After Suffering a Catastrophic Injury
The aftermath of a catastrophic injury accident can be chaotic and overwhelming. Victims are often in shock and possibly extreme pain. Try to remain calm and take the following essential steps:
Call 911
Call 911 as soon as you can to request medical assistance. Emergency responders will arrive to treat anyone injured and transport you to the hospital. Law enforcement will also come to create an incident report that will contain critical details. For example, suppose your catastrophic injury was caused in a car accident. In that case, an officer will include what they believe occurred, who was at fault, statements from the parties involved and any witnesses, the positions of the vehicles and extent of damage, the severity of injuries, and more. This report can be crucial evidence of liability when filing an insurance claim.
Document the Scene
In most situations involving a catastrophic injury, you will be immediately taken to the hospital. As a result, you may not be able to gather additional evidence at the scene unless a friend, family member, or your attorney can do it for you. Examples of critical evidence from the scene include photos and videos of the area, the cause of your injury, your injury, and contact information for any witnesses.
Seek Medical Treatment
If your catastrophic injury has delayed symptoms and you are not taken to the hospital, see a doctor as soon as you leave the scene. Some catastrophic injuries can take hours or even days to appear. Seeking treatment right can be critical to your health, and medical records also provide a link between the incident and your injury.
Speak to a Lawyer
It can be challenging to obtain the compensation you are entitled to on your own. An experienced Las Vegas Catastrophic Injury Attorney can help you with every aspect of your case, including preserving evidence that is vital to proving your claim, communicating and negotiating with the insurance company for a fair settlement, and representing you in court if necessary.
Contact a Las Vegas Catastrophic Injury Lawyer Today
When you need a Las Vegas catastrophic injury attorney, you can contact us. We offer free consultations; send us a message online or call us at (702) 744-9833 or toll-free at 1 (800) 393-2350.