At Harris & Harris Injury Lawyers, our skilled Las Vegas motorcycle accident lawyers are ready to help if you are injured in a crash. Let us investigate what happened so we can secure the compensation you deserve. Call our motorcycle accident lawyers in the Las Vegas area today.
Nevada is home to plenty of motorcycle riders. However, these riders face more risks on the roadway than regular vehicle passengers and often suffer from severe injuries due to other people's negligence.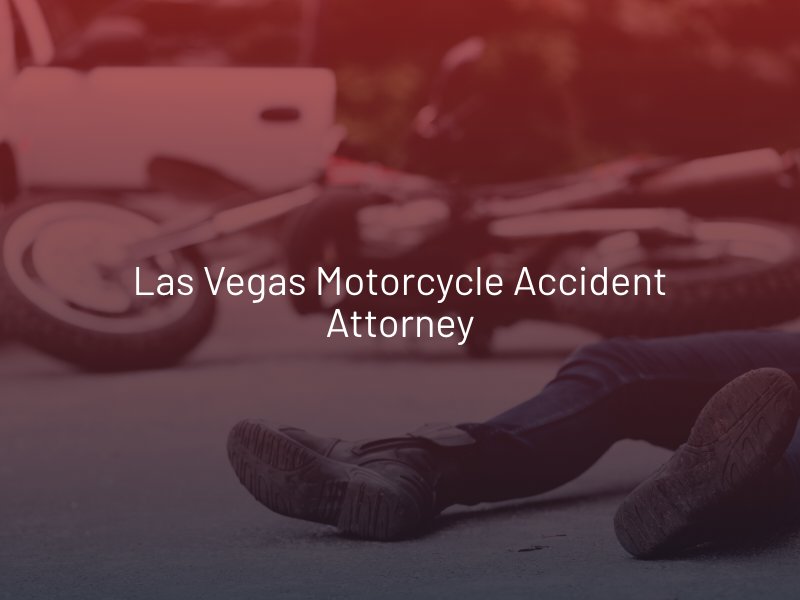 Navigate This Page
Why You Need Harris & Harris Injury Lawyers
After a motorcycle crash, you need a motorcycle accident attorney who you can trust. At Harris & Harris Injury Lawyers, we have dedicated ourselves to helping those in the Law Vegas area recover from devastating injuries.
Our personal injury lawyers in Las Vegas do not hesitate to take your motorcycle accident case to trial if that is what is necessary to secure compensation.
We have a success rate of 99% and have secured millions of dollars for our clients involved in motorcycle collisions.
Motorcycle accident victims will never pay any out-of-pocket cost and will only owe legal fees if our law firm is successful in your case.
How Can a Las Vegas Motorcycle Accident Lawyer Help my Case?
Many insurance companies have a bias against motorcyclists. While they may not say so, they will often look for ways to blame the motorcyclist for a crash. Your experienced Las Vegas motorcycle accident lawyer will work to gather all evidence necessary to prove the other driver's fault. This includes:
Police and accident reports
Video surveillance from businesses and traffic cams
Photographic evidence from the scene
Road conditions
Medical records
Eyewitness accounts of the crash
Your accident lawyer will know how to negotiate with insurance companies to receive maximum compensation and will prepare your case for trial if necessary.
How Much Is My Motorcycle Accident Case Worth?
If you or someone you care about has been injured in a motorcycle accident that was caused by another driver's actions, you may need a motorcycle crash attorney. At Harris & Harris Injury Lawyers, we will get to the bottom of what happened in order to secure the compensation you need. This could include:
Coverage of medical expenses related to the motorcycle crash
Recovery of lost wages if you are unable to work
Diminished earning capacity damages
Coverage of property damage
Pain and suffering and loss of enjoyment of life damages
Possible punitive damages against the negligent party
If you lost a loved one in a motorcycle accident, you may be able to recover additional damages. Speak with an experienced wrongful death attorney to learn more about your rights after a fatal motorcycle accident.
What To Do After a Motorcycle Crash to Protect Your Rights
The minutes and days that follow a motorcycle accident are the most critical period, when planning to pursue a personal injury claim in Nevada. The success of your motorcycle accident lawsuit hinges on the whether the following steps were taken:
Seek medical attention. If you are not treated by emergency medical personnel at the scene, visit your general physician or urgent care facility. Not only is this vital to your health, but it also provides documentation for any injuries.
Gather evidence. Take photographs and videos at the scene, particularly of the damaged property, injuries, skid marks and other conditions that might help establish fault during an investigation.
Get a copy of the police report. It will typically be ready 7-14 business days after the crash.
Keep a record. Write down or obtain records of any medical treatment and rehabilitation you receive, including medical visits, tests, prescriptions, and anything else related to the accident injuries. In addition, track the number of days you miss from work.
Speak to a Las Vegas motorcycle accident attorney. Before talking to an insurance adjuster from the insurance company, and especially before giving a statement, consult with a Las Vegas motorcycle accident lawyer. An attorney can handle the accident claim by dealing with the insurance company on your behalf, and/or confirm if a settlement offer is fair compensation for your losses and damages.
Common Motorcycle Accident Injuries
Motorcyclists do not have much protection from the force of a vehicle when a crash occurs, even when they are wearing a helmet. It is not uncommon for our Las Vegas motorcycle collision lawyers to help clients suffering from the following serious injuries:
Head injuries
Internal organ damage/internal bleeding
Broken or dislocated bones
Severe lacerations or amputations
Severe road rash or scraped skin
Many drivers fail to give motorcyclists the space they need on the roadway. They often ignore a cyclist's right-of-way or follow them too closely. Negligent drivers who cause motorcycle crashes must be held accountable for their actions.

Nevada Motorcycle Insurance Coverage Requirements
The state of Nevada requires motorcycle riders to carry motorcycle insurance and show proof of it prior to receiving their registration. The minimum amount of liability insurance required is:
$25,000 for bodily injury per person in an accident
$50,000 for bodily injury per accident
$20,000 for property damage per accident.
The consequences of riding when uninsured can result in varying penalties, including fines and a suspended license. Motorcyclists have the option of adding supplemental insurance coverage to protect themselves in the event of an accident. That includes collision coverage, comprehensive coverage, and uninsured/underinsured motorist coverage.
Legal Requirements for Motorcycles
In order to increase motorcycle safety, there are state laws which outline the mandatory requirements for operating a motorcycle.
Motorcycle License
Prior to riding a motorcycle in Nevada, a Class M driver's license must be obtained by either:
Taking a license course that is offered by an approved motorcycle school

; or, 

Passing a written test and a road skills test offered by a full service Department of Motor Vehicles office (DMV).
You may choose whichever option is better for your specific needs.
Equipment Laws
Once the exams are passed, a motorcyclist will need a helmet that is in compliance with Federal Motor Vehicle Safety Standards; as they are required by law to be worn by both drivers and passengers while riding. Riders must also have eye protection, such as goggles or a face-shield.
Additionally, motorcycles in Nevada must be equipped with the following:
One headlight
Red tail light (visible from 500 feet)
Brake light (visible from 300 feet)
Handlebars (hand grips must be below shoulder level)
Rear view mirrors on each handlebar
Rear-mounted reflectors (visible from 300 feet)
Working turn signals (front and rear)
Functioning front and rear brakes
Muffler
Horn
Fenders for front and back wheels
Adjustable footrests
Complying with the legal requirements set by the state for operating a motorcycle, can help riders avoid serious personal injury if an accident occurs.
Nevada Motorcycle Accident Statistics
According to the latest data available for Nevada, there were 259 fatalities and 1,076 serious injuries as a result of motorcycle accidents in the state from 2012 to 2016.
From 2015 to 2017, there were 2,383 total motorcycle crashes in Las Vegas. These led to multiple motorcycle fatalities and severe injuries. If you or a loved one was hurt in a motorcycle accident, our personal injury law firm can help accident victims recover compensation.
If you need a Las Vegas motorcycle accident attorney, you can contact our personal injury law firm in Clark County for a free consultation of your motorcycle accident case by clicking here or by calling us at (702) 384-1414 or toll-free at 1 (800) 393-2350. Our team can be your legal representation after a serious motorcycle collision to help recover maximum financial compensation for medical bills and more.