Bus safety has improved in recent decades but bus accidents are still somewhat common. Due to their size and weight, bus accidents often cause significant damage and injury. If you have been in an accident involving any type of bus, it's important you contact a Las Vegas bus accident lawyer who can evaluate your case and provide the best legal advice. Call us today to schedule your free consultation.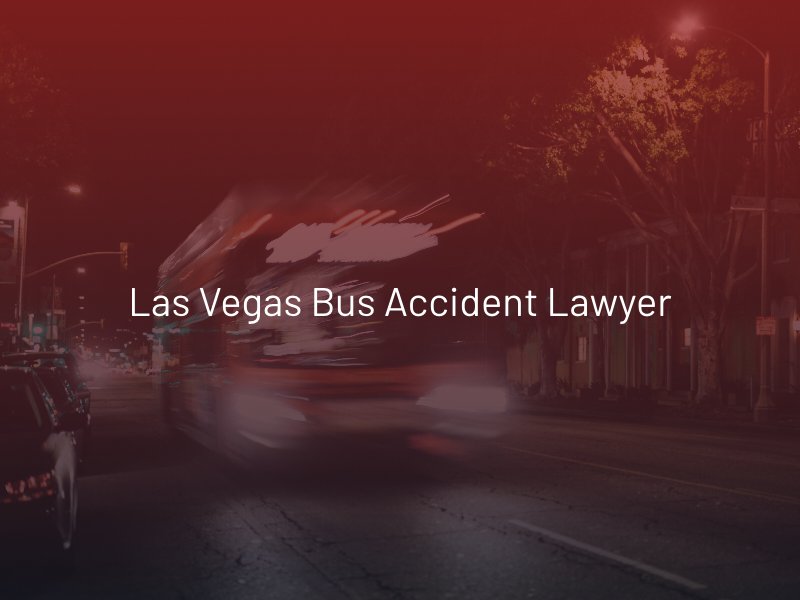 Why Should Harris & Harris Injury Lawyers Handle This Case?
If you or a loved one are recovering from a bus crash injury, you need an attorney with the experience to secure the compensation you deserve. At Harris & Harris Injury Lawyers, we have more than 20 years of experience to bring to your case.
We have the resources and experience necessary to take on large companies and aggressive insurance carriers in Clark County, Nevada.
Our law firm will never recommend that you settle for less than your personal injury case is worth, and we will go to trial if necessary to secure the compensation you are entitled to.
You will always have access to your personal injury attorney in Las Vegas with any questions or concerns you have about your case.
Our legal fees are directly tied to our success with your case, and you owe our law firm nothing until we secure the compensation you need.
Navigate This Page
Why Is a Bus Accident Attorney Necessary?
Bus accident cases can become very complicated, particularly when it comes to determining liability. Your bus collision attorney will be responsible for conducting a thorough investigation on your behalf. You cannot count on the insurance company to do so for you. Your Las Vegas bus accident lawyer will:
Obtain all evidence from the crash scene, including accident reports, eyewitness accounts, video and photo surveillance from the scene, and more.
Ensure your medical records are evaluated by a trusted medical professional.
Work with experts to calculate your total losses.
Negotiate with the bus company and their insurer to secure a settlement that covers all of your crash-related expenses.
What are the Different Types of Bus Collisions?
The term "bus accident" may refer to a collision between a bus and any of the following:
Another motor vehicle
An inanimate object, such as a light post, trees, guardrails, etc.
A pedestrian
An animal
Bus accidents are much more complicated than typical automobile accidents due to the many complicated laws that regulate bus accidents. The investigation process to determine fault can be lengthy and may be taken over by the bus company. It is crucial for victims to hire an experienced accident attorney in Las Vegas to take legal action and help them get what they deserve.
Filing Bus Accident Claims
In a typical car accident, each driver is responsible for collecting evidence of the incident and filing injury claims to the insurance companies. When a commercial bus is involved, the company operating the bus, not the bus driver, tries to take over so they can control the narrative. As the bus company makes attempts to minimize its responsibility, victims of the accident are taken advantage of. This is why it is very important to have an experienced Las Vegas bus accident lawyer on your side fighting against big bus companies for you.
What are the Different Types of Buses?
There are several types of buses that may be involved in a bus crash. Each category has its own laws and regulations and a unique organizational layout.
Tour buses
Many tour buses are very large- some are even of double-decker and open-roof design. This can lead to serious personal injury in the case of a crash. Tour buses, including charter buses, do not have as many regulations as city and school buses.
City buses
Public buses, also called "transit buses", can be a very convenient mode of transportation within a city. Both the circumstances of these transit bus crashes and the entity responsible for their operations affect how to prove liability and obtain compensation.
School buses
The National School Transportation Association, the National Highway Traffic Safety Administration, the American School Bus Council, as well as other groups, are responsible for overseeing regulations related to school buses in Nevada. Many school buses are not equipped with seat belts or they do not enforce the usage of seat belts. This may increase personal injury in the event of a crash.
Because there are so many variables when it comes to bus accidents, it's important you consult with a Las Vegas busing accident lawyer who is experienced in these nuances.
Who Caused Your Bus Accident?
Determining liability can be the most difficult part of a case involving a bus accident. Several parties are usually involved and multiple groups may be deemed partially responsible. Some of the individuals or groups that may be responsible include:
The bus driver
Supervisors of the bus driver
The bus company
The vehicle maintenance company
Other drivers
The government (for city buses)
Common Bus Accident Injuries
Bus accidents often result in serious injuries for those involved, including those struck by a bus as well as those inside the bus itself. It is not uncommon for our Las Vegas bus accident lawyers to help clients suffering from the following:
Open head injuries
Severe neck and lower back injuries
Broken and fractured bones
Amputations and puncture wounds
Permanent disfigurement
These injuries range in severity. Often, a bus crash leads to victims needing significant medical intervention. Victims and their families can incur tremendous medical bills. If a victim cannot work while they recover from their injuries, they could lose the income they need to support themselves and their families. If a loved one was lost in a fatal crash, you may be able to seek compensation through a wrongful death lawsuit.
What Kind Of Compensation Could You Recover For a Bus Accident Case?
If you have been injured in a bus accident that was caused by the careless or negligent behavior of another person or company, such as driver fatigue or mechanical failure, you could be entitled to significant compensation beyond what the insurance carrier initially offers. Your compensation could include both economic and non-economic damages:
Coverage of all medical expenses related to the bus crash
Recovery of lost wages if you are unable to work while you recover
Pain and suffering damages
Loss of enjoyment of life damages
Punitive damages against any negligent party (bus company, driver, maintenance crew, etc.)
Caps on Damages for Compensation
Depending on whether the bus involved was a city or private bus, compensation caps may range from $100,000 (government) to more than $1,000,000 (private). These numbers represent the maximum amount of money an entity can be forced to pay per accident. If there are many victims, the maximum amount of compensation each could receive decreases.
How Long Do You Have To File a Bus Accident Lawsuit?
In Nevada, you have two years from the date of the accident to file a personal injury lawsuit. Please do not let that date pass to file your accident claim. Filing a lawsuit after the statute of limitations expires will almost surely result in your case being dismissed.
What to Do if You're Involved in a Bus Accident
In the unfortunate case that you are involved in a bus accident, it may be difficult to think of what to do next. Though it can be very difficult to fight a big bus company, there are some things you can do to defend yourself:
Collect as much evidence as possible. Be sure to record what you know about the time and location of the accident, the circumstances surrounding the accident, and details regarding the specific bus involved (bus number, bus drivers, operating company, route, etc.).
Keep records of medical bills. Write down exactly what injuries you received, what the pain of these injuries were (for pain and suffering damages), and keep receipts of all associated costs. Take pictures and videos when available.
Contact a bus accident lawyer in Las Vegas for legal advice.
Big bus companies work very hard to minimize the possibility of being held responsible for an accident. There is a lot of red tape and bureaucracy involved in a bus accident. The law process can be very lengthy and expensive, requiring intimate knowledge of the law on a local, state, and federal level. Having a law group who understands these complex laws and can stand up to corporations is crucial for getting you the compensation you deserve.
Our Las Vegas Bus Accident Attorneys Will Fight for You
At the Las Vegas law office of Harris & Harris Injury Lawyers, we have the experience and compassion to accurately assess the value of your motor vehicle accident injury case. We have helped thousands of people and passengers injured in Nevada bus accidents and are ready to serve you in Clark County. Give us a call at (702) 384-1414 to speak to a Las Vegas bus accident attorney at our law firm today or fill out our convenient online contact form. We offer free consultations.