Speak with a Las Vegas product liability attorney at Harris & Harris Injury Lawyers to learn more about how you may be able to recover maximum compensation if a product defect caused your serious injury.
Each of us uses thousands of products in the course of a day, many with the potential to cause harm. The tires on your car, your desk chair, the tools you use in your work, the food you eat, the stroller your child rides in — each of these products should be tested to ensure its safety. When these products are not safe and cause injuries, you have options for legal recourse through a product liability claim.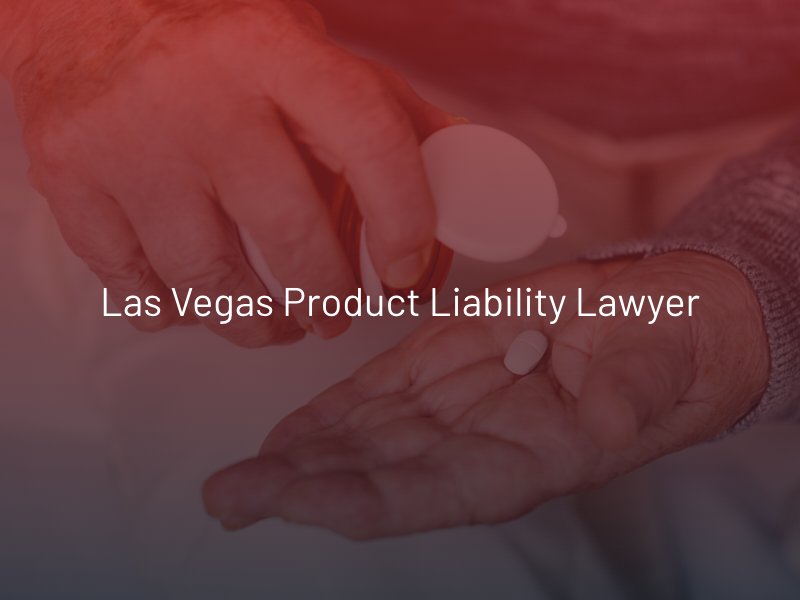 Navigate This Page
What Damages Can I Recover in a Product Liability Claim?
Compensation for injuries related to defective and dangerous products generally fall into the following four categories:
Medical Expenses
This includes the costs for any hospital stays, surgeries, doctor's visits, physical and occupational therapy, medication, medical equipment, ongoing treatment, and any other type of medical bill.
Lost Wages
Covers any income lost due to missing work because of your injuries, and potential income or benefits you will lose in the future. For instance, if your injury requires that you work fewer hours or in a job with lower pay than the position you had before the incident.
Pain and Suffering
Compensates you for the pain caused by your injuries, as well as for the loss of the ability to participate in and enjoy activities that you used to engage in.
Loss of Companionship
Your spouse and family can be compensated for the loss of your companionship, society, and services due to your injuries.
How Our Las Vegas Product Liability Lawyers Can Help with Your Claim
As soon as you suffer an injury from a product, an experienced Las Vegas product liability lawyer can help you file a claim. They will handle all legal aspects of your case, including:
Investigating the accident
Examining your medical records
Assessing your financial losses
Negotiating with the insurance company
Preparing for trial (when necessary)
Your personal injury attorney will help you prove liability to cover the extensive losses you, and your family may have suffered. When you are hurt because of a defective product, the parties involved in its creation, manufacturing, and distribution oftentimes have strict liability. That means you do not need to prove any certain party was negligent, but only that the product was used in a foreseeable way and caused your injuries.
How Long Do I Have to File a Product Liability Claim in Nevada?
The statute of limitations for defective product liability claims in Las Vegas is two years. If you fail to file a claim within two years of being injured, you may be forever barred from recovering damages.
Types of Injuries from Defective Products
Virtually any type of injury can be caused by a defective product, and may range from mild to catastrophic. Some of the most common that occur include:
Lacerations and bruises
Broken bones
Chemical and thermal burns
Strangulation
Poisoning
Electric shock
Neck and back injuries
Spinal cord injuries and paralysis
Choking
Loss of vision or hearing
Loss of limbs or digits
Coma
No matter the type or how severe your injury is, you may be entitled to compensation when a defective product is involved.
What To Do After a Defective Product Injury
The steps you take following a defective product injury can significantly impact the success of your claim. After being hurt:
Seek Medical Care
Your health is the top priority. Even if injuries seem minor, see a physician as soon as possible. Medical records documenting your defective product injury are also vital when it comes time to file a claim.
Preserve the Product
If you can safely store the defective product, be sure to do so and save every piece. This physical evidence can be vital in proving liability. Photographs of the product, the scene where the injury occurred, and of your injuries, will also help by keeping a visual record.
Leave the Product Alone
Once you are injured do not attempt to fix or alter the product. That may make it difficult to understand and demonstrate how it failed.
Gather Documentation
Search for any documents you have related to the product, such as a record of purchase, owner's manuals or user instructions, and technical information. In addition, request copies of any medical records related to the injury.
Consult with a Product Liability Attorney
Take advantage of the free consultations that defective product attorneys in Las Vegas typically offer. Find a lawyer who you trust as soon as possible, so a professional investigation can begin. Any delay can put your claim at risk. Additionally, you may find out if there are other people who have been hurt by the same product.
Who Can Be Held Liable for a Defective Product in Las Vegas, Nevada?
There are several entities that may be liable for any injuries caused by a defective product:
The Manufacturer: They are at the top of the chain of distribution, which makes them the first likely candidate to be liable in a defective product lawsuit. In some product liability cases, there may be multiple manufacturers that can be held responsible. For instance, if the defective product is a part of a larger product—such as a defective battery within a vehicle.
The Retailer: You may also have a product liability case against the retailer who sold the defective product, for simply selling a dangerous product. Even if you did not directly buy or use a defective product, you may be able to recover damages from the retailer if you were injured while the product was in use.
The Wholesaler or Distributor: Finally, you may be able to pursue a product liability lawsuit against any other "middlemen" in the chain of distribution, such as the wholesalers and distributors. Although your injuries may not necessarily be their fault, similarly to the retailer, any individual or entity involved in the chain of distribution of a defective product can potentially be held responsible.

Types of Product Liability Cases
The most common types of product defects are design defects and manufacturing defects, but you may also be able to recover damages for breaches of warranty.
Design Defects
Product manufacturers are required to design products that are reasonably safe when used as intended. If a product's initial design makes it unreasonably dangerous, the manufacturer can potentially be held financially responsible for injuries that occur.
To determine whether a product design is defective, Nevada courts employ a "consumer expectation" test. According to this standard, a product may be considered defective if the product did not perform as safely as an ordinary consumer would have expected it to, when using it as intended or misusing it in a reasonably foreseeable way.
Manufacturing Defects
A product's design can be reasonably safe, then defects can unintentionally be created during the manufacturing or assembly process. When a poorly manufactured product is used as intended and causes injury, the manufacturer may be responsible for any damages.
Product manufacturing defects can occur, for example, if a manufacturer attempts to cut costs by using low-quality materials to build their products, or if the parts are not assembled correctly, due to a component being left out or damaged during production. Another potential manufacturing defect is contamination. Recalls for contaminated food are often in the news, as well as for prescription drugs, medical devices, and other products.
Common Defective Products
There are various types of products that can have design defects of manufacturing defects that result in a personal injury. Some of the most common product liability cases are due to the following:
Dangerous Pharmaceutical Drugs
Drugs for which drug recalls have been issued such as recent Tylenol and Motrin recalls and Abacavir and Acarbose tablet recalls.
Children's toys and equipment including toys and furniture that contain toxins, cribs and bassinets with choking hazards, and strollers that collapse.
Defective Automotive Parts
Manufacturers selling faulty auto parts causing or contributing to accidents can be held liable (tire defects and tread separation, brake fires, steering failure, spontaneous acceleration). Some defective car parts don't cause car accidents, but they contribute to injuries, such as defective airbags, seat belts, and seatback failures.
Defective Medical Devices
Medical products including pacemakers, defibrillators, surgical stents and the identified problem with DePuy hip replacements.
Food Poisoning
Contaminated foods such as lettuce contaminated with listeria, sprouts contaminated with salmonella or canned foods containing an unlisted ingredient can cause allergic reactions such as peanuts.
E-Cigarettes
E-cigarettes have been reported to explode without proper warnings and when not in use, resulting in very serious e-cigarette injuries.
And More
Defective Consumer Products such as gas appliances that cause explosions and burn injuries, defective Recreational Equipment including bike helmets and boating equipment, and much more.
If you have been involved in a defective product accident or was hurt due to a dangerous product, contact Harris & Harris Injury Lawyers online to schedule a free case evaluation or call (702) 384-1414 or toll-free 1 (800) 393-2350. Our legal team of product liability attorneys have years of experience handling product liability cases that resulted in serious injuries. We know product liability laws in Nevada and can help accident victims recover compensation for their severe injuries.
When you come to our personal injury law firm, a consultation about your claim with a product liability lawyer is free. Call now.