If you are an injured pedestrian or know somebody who is, contact a Las Vegas pedestrian accident lawyer immediately for legal representation. At Harris & Harris Injury Lawyers, our personal injury law firm can handle your pedestrian accident claim while you focus on healing.
Why Are Harris & Harris Injury Lawyers Your Best Choice?
If you are injured in a pedestrian accident, you need to get help from an experienced Las Vegas pedestrian accident attorney you can trust both personally and professionally. When you turn to Harris & Harris Injury Lawyers, you are gaining help from a law firm that has been in the Las Vegas area for over 15 years.
We focus solely on personal injury law, which means our law firm has developed the expertise and experience necessary to win your personal injury case.
Our Las Vegas personal injury lawyers have a proven track record of success and have secured more than $100 million in compensation for our clients.
We are a client-oriented personal injury law firm, which means your needs always come first. We focus on developing relationships with clients so we can learn your needs and goals.
You will not pay any legal fees until we are successful in securing maximum compensation for you.
Case Results
Our Las Vegas pedestrian injury attorneys have secured tens of millions of dollars on behalf of our clients. Below are a few of our many successful case results:
$2.5M in a pedestrian accident involving a delivery truck in downtown Las Vegas
$1M in a Las Vegas slip and fall accident
$1M in a premises liability case in a Las Vegas Strip Mall
Navigate This Page
How a Pedestrian Accident Attorney in Las Vegas Can Help
A pedestrian accident case can become incredibly complex. While it may seem obvious that someone else is at fault for the crash, that is not how the insurance company will portray the incident as they seek to limit settlement amounts. Your pedestrian accident lawyer will be your advocate. They will be responsible for:
Securing all evidence from the scene of the incident, including accident reports, photo and video surveillance footage, eyewitness statements, and more.
Ensuring you are examined by trusted medical professionals who can determine the extent of your injuries.
Working with financial experts to calculate your total damages as a result of the pedestrian crash.
Negotiating with aggressive insurance companies to obtain a fair settlement on your behalf.
Preparing your personal injury case for trial if that is what is necessary to secure the compensation you deserve for your pedestrian injuries.
What Compensation is Recoverable in a Pedestrian Accident Case?
In Nevada, victims of negligent accidents, such as pedestrian accidents, may be entitled to compensation through economic, non-economic and punitive damages. These may include:
Financial losses
Costs of medical care and medical treatment
Lost income
Lost wages
Diminished earning capacity
Emotional distress like pain and suffering
If a pedestrian accident resulted in wrongful death, you may also be able to recover for funeral expenses and loss of consortium. Speak with a wrongful death attorney in Las Vegas to learn more about a pedestrian fatalities and your options to recover financial compensation.
How Long Do I Have To File a Pedestrian Accident Lawsuit in Las Vegas?
Each state sets a statute of limitations, or time limit, in which personal injury claims must be filed. In Nevada, the statute of limitations for a pedestrian accident lawsuit is two years from the date the accident occurs. Any personal injury lawsuit filed after the two-year limit has expired will almost certainly be dismissed by the court.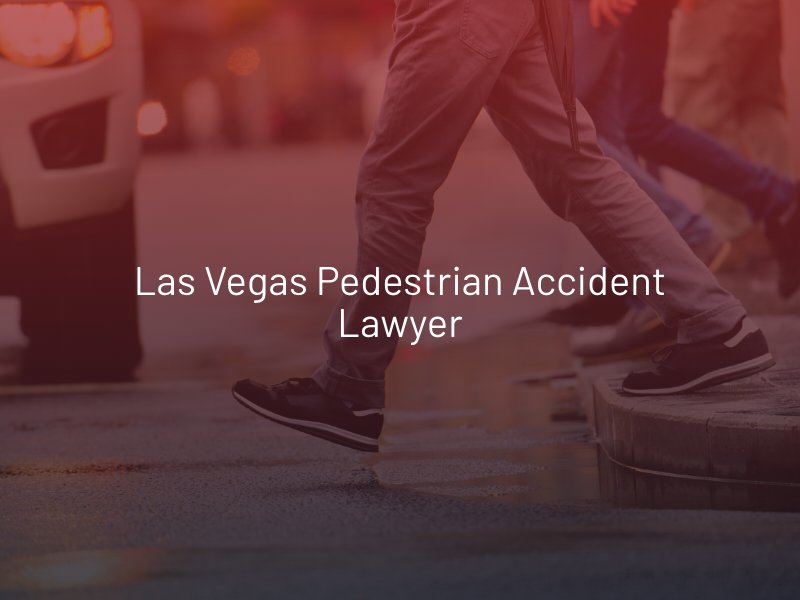 What are Common Pedestrian Accident Injuries?
Pedestrian accidents often result in severe injuries for the victims. The human body has little protection from the force of a vehicle slamming into it, and it is not uncommon for our Las Vegas pedestrian accident attorneys to help clients recover suffering from the following:
Broken and dislocated bones
Severe lacerations
Neck injuries
Internal organ damage
Internal bleeding
Road rash
Whiplash injuries
Concussions
These serious injuries require immediate and often extensive medical attention. This can result in victims incurring significant medical expenses. If a pedestrian accident victim cannot work while they recover, they could lose the income necessary to pay their regular household bills and the incoming medical bills.
Determining Liability in Las Vegas Pedestrian Accidents
There are several laws in Nevada regarding the interactions between cars and pedestrians. Drivers have a responsibility to ensure the safety of everyone on the road. If you have been hit due to driver negligence, call a pedestrian accident lawyer in Las Vegas as you may be entitled to compensation.
Pedestrians have the right of way. his includes unmarked crosswalks. Pedestrians do not have the right of way when walking against the crosswalk sign or jaywalking. Pedestrians do not have the right to just run out into the street and expect cars to stop for them.
Blind pedestrians have the right of way at all times.
Drivers must stop in the presence of a school crossing guard. They may not continue driving until all parties have exited the crosswalk.
Drivers must obey the speed limit.
Drivers must slow or stop when another driver has stopped within a lane. This stopped driver may be waiting for a pedestrian to cross, so all other drivers must be sure there is no pedestrian before proceeding. This could occur at a stop sign, crosswalk, or red light.
Other Liable Parties
In some cases, parties other than a driver may be liable for Las Vegas pedestrian accidents. There may be times when local municipal agencies may be at fault. This could be the case if:
Pedestrian crossing lights are not working or malfunctioning.
Pedestrian pathways, sidewalks, or crosswalks are not properly maintained.
There is broken pavement or other obstacles that road authorities are aware of but do not fix in a reasonable amount of time.
Keep in mind, the comparative negligence system in Nevada is modified comparative negligence. This means that any individual involved in a car or pedestrian accident may be held responsible to some degree. For example, if a pedestrian is struck by a vehicle, but happened to be jaywalking, they could be 50% responsible for the accident. Partial fault laws can make it more difficult for injured pedestrians to be properly compensated. For this reason, it is important to seek legal advice as soon as possible. The opposing party will do everything possible to avoid responsibility for damages.
Las Vegas Pedestrian Accident Statistics
Las Vegas is frequently listed in the top 10 cities with the most pedestrian accidents in the US. Research data shows that most pedestrian accidents that result in pedestrian death occur outside of marked crosswalks. This is probably because drivers don't anticipate a pedestrian to be walking in undesignated areas, so they aren't on the lookout or being especially careful.
Research shows 90% of the pedestrian fatalities across the state of Nevada, happened in Clark County. The CDC also has data showing that around 20% of all fatal vehicular accidents involving children between 5 and 15 are pedestrian accidents.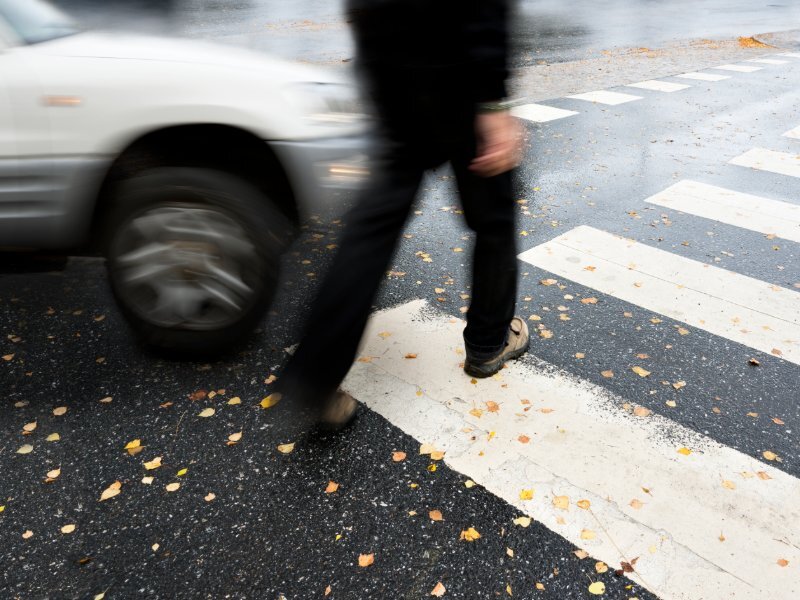 Precautions for Pedestrians
There are many ways pedestrians can limit their likelihood of being a victim of a motor vehicle collision:
Use Marked Crosswalks Wherever Available
It may seem inconvenient to cross the street just to use the crosswalk and have to cross back later, but it's much better to be inconvenienced than to be injured.
If there are no marked crosswalks, pay attention to the traffic lights and walk as directly from one corner to the next closest corner of the intersection, unless a diagonal crosswalk is clearly marked and the sign indicates your right of way. Be sure to watch for motor vehicles that are turning and act defensively! Cars can move very quickly and may have trouble stopping, especially in bad weather. Though it is the law to yield to pedestrians, it's important to understand not everyone knows the laws or is paying enough attention to adhere to them properly.
Stay on the right side of the crosswalk.
Use Pedestrian Bridges and Tunnels When Available
Again this may seem unnecessarily inconvenient but in a match between a pedestrian and a 4,000-pound car, it's easy to imagine the catastrophic effects.
Pay Attention to Traffic Signals
Many individuals get in the habit of following the person in front of them instead of making independent decisions. Even when an individual is acting independently, many don't pay attention to the crosswalk signs and tend to jaywalk. This is very dangerous! When cars think they have the right of way, they are less likely to watch for pedestrians. It's also harder to notice a lone walker, especially when wearing dark clothing.
Use Sidewalks Whenever Possible
When there are no sidewalks, pedestrians should walk on the left side of the road. Facing oncoming traffic is the safest thing to do so you can anticipate oncoming cars and they may anticipate your movements.
Be Aware of Visibility
If possible, wear bright or reflective clothing when walking, especially at night. When this is not available, using a flashlight or a light on one's phone can help improve visibility.
After a pedestrian accident, you have legal rights for compensation. At Harris & Harris Injury Lawyers, our compassionate pedestrian accident attorneys in Las Vegas are dedicated to providing our clients with the best legal service possible after pedestrian accidents. We can maximize our clients' compensation through negotiations or trial in Clark County.
Give us a call at (702) 384-1414 for a free case evaluation with an accident lawyer in Las Vegas. You can also fill out our convenient online contact form here to learn more about how we can help your pedestrian accident claim during a free, initial consultation. Our law office proudly serves all of Clark County, including downtown Las Vegas. We are located in western Las Vegas, near Summerlin, off of State Route 613 (Summerlin Parkway).
"If you have been in an accident and are looking for truly genuine and honest professionals who can help you sort out all of the frustration, confusion, and pain of having to deal with an ordeal like this I truly believe this is the law firm to employ."

-Renee Q.