When you turn to Harris & Harris Injury Lawyers for your brain injury lawyer in Las Vegas, you are gaining skilled and experienced legal representation. Our law firm is ready to help you gain the compensation you deserve. Call us when you need a Las Vegas brain injury attorney.
Brain injuries can be devastating and lead to lifelong impacts on victims. If you or a loved one sustain a brain injury that was caused by someone else's negligence, you may be entitled to compensation.
Navigate This Page
Why Choose Our Las Vegas Brain Injury Lawyers?
If you are suffering from a brain injury with somebody else caused, you need an attorney who can help you through this entire process. At Harris & Harris Injury Lawyers, our personal injury lawyers develop close relationships with our clients.
We have a proven track record of success, with a 99% success rate in cases, securing more than $100 million in settlements and verdicts for our clients.
Our brain injury lawyers in Las Vegas refuse to take settlements that do not meet your expectations, and we will happily take a case to trial if it means securing the maximum possible compensation.
We take all serious brain injury cases on a contingency fee basis. This means you will not pay a dime until our law firm is successful in securing the compensation you deserve.
What Will Your Brain Injury Attorney Do to Help Your Case?
Brain injury cases can become incredibly complex. Your Las Vegas brain injury attorney will make sure your case is handled correctly by:
Obtaining all evidence necessary to prove liability (medical records, accident reports, eyewitness statements, etc.)
Handling all negotiations between you and the defendants, such as insurance companies, concerning settlement negotiations.
Preparing a case for trial if the defendants refused to offer a fair amount.
What Damages Can You Recover for a Brain Injury?
If you are loved one has sustained a brain injury that was caused by another person's careless or negligent actions, you may be entitled to compensation in Nevada. Harris & Harris Injury Lawyers are ready to investigate this incident and work to secure the compensation you deserve. This can include:
Nevada also allows juries to award punitive damages, which is money paid by a defendant as punishment for their egregious behavior. Since no two brain injury claims are alike, it is impossible to place an exact value on your claim. Harris & Harris Injury Lawyers are ready to investigate this incident and discuss your options for compensation. We will work to secure the maximum amount that you deserve.
Who Can Be Held Liable for Your Brain Injury?
Any person or entity can be held liable if you have suffered a brain injury due to their negligent or reckless actions or inactions. Potential defendants in a head injury lawsuit can include:
Motorists
Truck drivers or trucking companies
Property owners
Manufacturers of defective products or equipment
Medical professionals
Employers
Amusement park operators
Sports leagues, coaches, or administrative organizations
A city or state
Individuals guilty of assault or other intentional acts
Unfortunately, who is at fault isn't always straightforward, and there may be multiple parties involved. Proof of fault for your brain injury will depend on the evidence, which may vary based upon the type of accident. For example, the scene of the accident and reconstruction, eyewitness testimony, photos or video footage, police reports, medical records, maintenance logs, brain injury expert testimony, etc.
Even if you were partially to blame, you can recover compensation as long as your amount of liability does not exceed 50 percent. Speak to a Harris & Harris Injury Lawyer before accepting a settlement offer, so we may help you determine who is liable.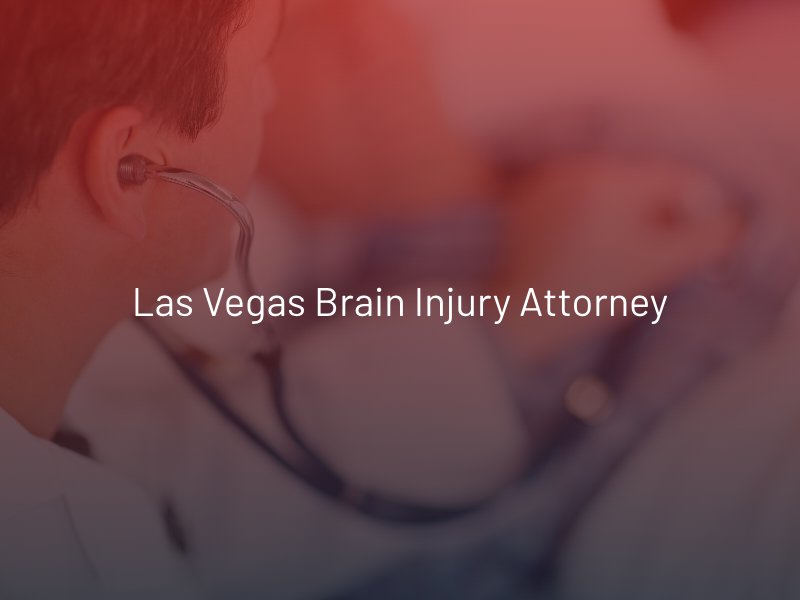 How Long Do I Have to File an Injury Claim?
Under Nevada's statute of limitations (Nev. Rev. Stat. § 11.190(4)(e)), brain injury victims have a limited amount of time to file a claim. In most cases, the deadline is two years from the date of injury. If you fail to pursue a lawsuit within that time, your case will likely be dismissed, and you will be barred from obtaining compensation. However, there are some exceptions. For example, when a brain injury is caused by medical malpractice, victims have three years from the date of injury or one year from when they discover it or should have known about it. Additionally, when a victim is a minor (under 18), except in medical malpractice cases, the statute of limitations is delayed until they reach 18. In medical malpractice cases involving a minor, the parents have three years to pursue a claim or one year under the discovery rule.
Types of Brain Injuries
Brain injuries are categorized into open and closed head injuries.
Open Head Injury
An open head injury is also referred to as a penetrating brain injury, which occurs when a foreign object breaks the skull and penetrates the brain. This type of brain injury is typically caused by violence, such as a knife or gunshot wound. However, when any injury fractures the skull, it is possible for bone fragments to enter the brain.
Closed Head Injury
This type of brain injury happens when a rapid forward or backward movement shakes the brain, causing bruising or tearing. Closed head injuries are commonly associated with car and fall accidents.
Common types of brain injuries include the following:
Concussion: A mild TBI that temporarily affects brain function, which frequently occurs in car accidents, falls, and high-impact sports.
Coup-contrecoup Injuries: When the brain repeatedly hits the inside of the skull due to an external force, damaging multiple areas of the brain.
Diffuse Axonal Injuries (DAI): One of the most severe types of brain injuries, which happens because the brain is shaken or twisted, causing connecting fibers (axons) to tear. The size of the tear typically dictates the severity of resulting symptoms.
Intracranial Hematoma: Any kind of head trauma can cause blood vessels to rupture within the brain, leading to a collection of blood in the skull, known as an intracranial hematoma. There are three types of brain hematomas:
Epidural hematomas: Blood collection between the skull and brain
Subdural hematomas: Blood collection under the thin layer of protection surrounding the brain
Intracerebral hematoma: Collection of blood within the brain itself
Any type of intracranial hematoma causes pressure on the brain and can potentially be life-threatening.
After an accident, victims often suffer a combination of brain injuries.
What are Common Causes of Brain Injuries?
Often, traumatic brain injuries (TBI) are caused due to the actions of another person. We regularly see brain injuries occur due to car accidents, workplace incidents, motorcycle accidents, sports injuries, premises liability incidents, boating accidents, pedestrian accidents, and more.
The Centers for Disease Control (CDC) has provided statistics that break down the leading causes of traumatic brain injuries and brain damage. According to the organization's data, those are:
Falls (47%, or around 1,320,411 people)
Commonly occur from wet and uneven surfaces, falling from a ladder, poorly constructed staircases, parking lot potholes, torn carpeting, etc.
Struck By or Against an Object (15%, or around 430,836 people)
These types of accidents are especially common in the workplace, from falling objects or when working with heavy machinery.
Motor Vehicle-Related Accidents (14%, or around 383,293 people)
Collisions involving cars, motorcycles, pedestrians, bicycles, or trucks.
Assault (9%, or around 255,112 people)
Intentional violence, such as a gunshot wound, child abuse, or domestic violence.
The consequences of a brain injury can be devastating, and have a lasting effect on the way a person feels, moves, acts, and thinks. It is vital that those responsible for these injuries are held responsible for what they have done.
What are Symptoms of a Traumatic Brain Injury?
Traumatic brain injuries are contributing factors in one-third of all injury-related deaths in this country. Those who survive and are living with brain injuries often suffer from lifelong disabilities. Our Las Vegas brain injury lawyers regularly help clients suffering from the following symptoms of brain or head injury:
Seizures and convulsions
Loss of bodily function
Dizziness
Cognitive impairment
Emotional and psychological problems
Drastic changes in mood
Personality changes
Memory loss
Changes in sleep patterns
Slurred speech
Nausea and vomiting
What to do After Suffering a Brain Injury
The aftermath of a brain injury accident can be chaotic and overwhelming, but it is important to try and remain calm. Take the following essential steps:
Call 9-1-1
Call 911 as soon as you can and request medical assistance. Emergency responders will treat you and transport you to the hospital if necessary. A police officer will also arrive and create an accident report that will contain critical details, such as contact information for all parties involved, how they believe the accident occurred, who was at fault, statements from the parties involved and any witnesses, and more. This report can be crucial when proving liability.
Document the Scene
If you are not taken to the hospital try to capture as much as you can by taking photos or videos at the scene of your accident. If anyone witnessed the accident, ask for their name and contact information.
Seek Medical Treatment
See a doctor as soon as you leave the scene. Brain injuries can go undetected and may take hours or even days to appear. Seeking treatment right away is the best choice for your health and will also provide documentation that links your brain injury to the accident.
Speak To a Las Vegas Brain Injury Lawyer
It can be challenging to obtain fair compensation on your own. An experienced lawyer will help you with every aspect of your claim, including investigating and preserving evidence, communicating and negotiating with insurance companies for a fair settlement, and representing you in court if necessary.
Brain Injury Statistics
Each year in the United States, approximately 2.8 million people sustain a traumatic brain injury. Out of these:
More than 50,000 people die from brain damage, including over 2,500 children.
288,000 people are hospitalized, with 23,000 being children.
2.5 million received treatment at the hospital.
Over 800,000 children (age 17 or younger) are treated for concussion or a brain injury.
People who are 75 or older are the most at risk of a brain injury-related hospitalization or death.
The rates of emergency department visits are highest for adults who are age 75 and older and children under four.
Unfortunately, there is no cure for a brain injury. You, or your injured loved one, may be unable to work, leave the house, or perform daily tasks that once were done with ease. If you have suffered from or lost a loved one due to traumatic brain injury, speak with an experienced wrongful death lawyer in Las Vegas.
When you need a Las Vegas brain injury attorney, you can contact our personal injury law firm for a free consultation of your case by clicking here or by calling us at (702) 384-1414 or toll-free at 1 (800) 393-2350. Our team of brain injury lawyers wants to help brain injury victims recover damages caused by negligence, such as medical bills, to help rebuild their lives and hold liable parties responsible. Call today to explore your legal options for a serious brain injury claim. We are here to help you during this difficult time.