At Harris & Harris Injury Lawyers, our Las Vegas burn injury lawyers can help you or your loved ones get the compensation you deserve for your losses. Burn injuries are devastating and can have a lifelong impact on all aspects of your life. You may no longer be able to earn a living or even perform daily tasks.
Contact our office today for a confidential, free case evaluation with a Las Vegas burn injury attorney.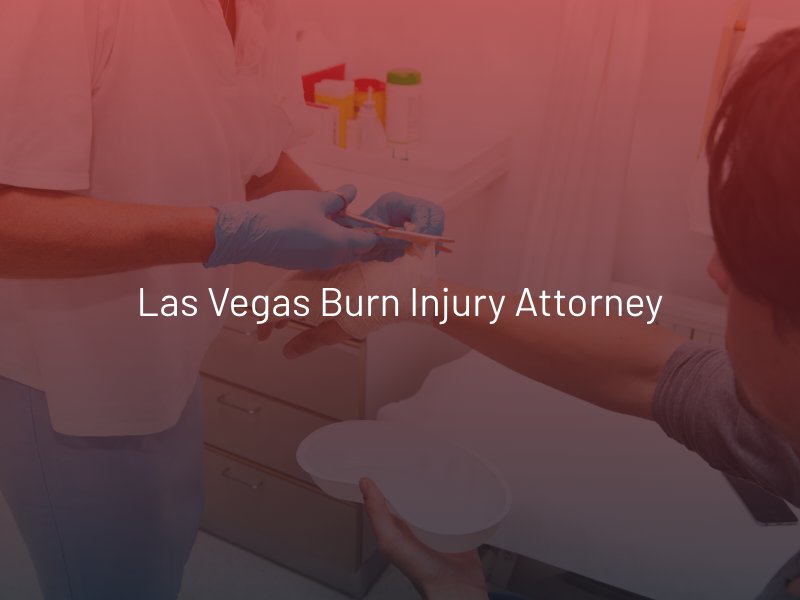 Navigate This Page
Why Choose Harris & Harris Injury Lawyers?
We have more than 20 years of experience handling Las Vegas burn injury cases.
Our personal injury law firm is not afraid to take your case to trial to achieve maximum compensation.
We have secured more than $100 million in compensation for our clients.
We never charge legal fees, unless our Las Vegas personal injury lawyers recover a settlement on your behalf.
Why Hire a Burn Injury Lawyer?
While no amount of money can ease the pain or challenges you or your loved one is facing, it can provide a sense of financial security for all those involved. A burn injury lawyer will have both the experience and the resources to build the strongest possible case on your behalf. Your accident will be thoroughly investigated to discover which parties are liable, collect evidence, and determine the full extent of your losses.
Your Las Vegas burn injury lawyer will take into account the lifelong effects a severe burn injury can have on you and your family, then aggressively pursue the maximum amount of compensation that your case is warranted.
What Damages Can I Recover for my Burn Injuries?
Burn injury victims have the right to obtain compensation for their losses in the form of damages. Damages is the legal term for how much money you may get in a settlement or court award. The common types of recoverable damages in a burn injury case include:
Economic Damages
Severe burn injuries can mean a lengthy recovery. This type of damages reimburses victims for medical bills, including hospitalizations, surgeries, medications, travel expenses to and from specialized burn care centers if applicable, and other ongoing treatments. If you are not able to work while recovering, you are also entitled to compensation for your lost wages. In addition, if the burn injury leaves a lasting impact and you cannot earn the same amount of income as before the accident, you may be able to recover damages for diminished earning capacity.
Non-Economic Damages
Suffering from a serious thermal, chemical, or electrical burn can have physical and psychological repercussions. The purpose of this type of damages is to compensate victims for their pain and suffering, loss of companionship, emotional distress, and other intangible consequences of your burn injury.
Punitive Damages
Punitive damages may be recoverable in cases where the at-fault party exhibited gross negligence or extreme recklessness. This type of compensation is rarely awarded but intended to punish the defendant and warn against similar behavior by them and others in the future.
The extent of your burn injuries, the long-term impact they have on your life, your age, as well as how and where your injury occurred will play a vital role in the value of your claim. Your settlement or award will also heavily depend on the intent of the defendant and their ability to pay.
Nevada does have a $100,000 cap on damages in burn injury claims against a government employee. For example, if you are involved in a car accident with a government employee while they are working, you will be limited in the amount of compensation you can recover. If punitive damages are awarded, they cannot exceed $300,000 if the amount of economic damages awarded is less than $100,000. If the amount of economic damages awarded is more than $100,000, punitive damages cannot exceed three times the amount of economic damages awarded.
Who Can Be Held Liable for Your Burn Injury?
Who can be held liable for your burn injury will depend on the specific circumstances of your case. For example:
Burn Injuries in Car Accidents
A burn injury lawyer can thoroughly investigate the cause of your car accident and help you hold an at-fault driver, insurance company, or government entity liable.
Burns from Dangerous Products
If a dangerous or defective product was responsible for your burn injury, a burn injury lawyer can help you pursue a product liability claim. Any party involved in the defective product's chain of distribution can potentially be liable, for example, the manufacturer, distributor, retailer, etc.
Burn Injury While on Someone Else's Property
If your burn injury was caused by unsafe conditions on another person's, company's, or government's property, an attorney can help you file a premises liability claim against the property owner or manager.
Burn Injuries at Work
If your accident happened at work, you are entitled to workers' compensation benefits to cover medical bills and a portion of your lost wages. In addition to helping you with your workers' comp claim, an attorney can determine if any third parties are also liable. If so, you can pursue a third-party burn injury lawsuit for additional compensation.
Whatever the cause of the injury, a burn injury attorney will investigate to determine all liable parties. Any person or entity that contributed to your accident can be held legally responsible if you can prove their negligence directly or indirectly caused your harm.
How to Prove Liability in a Burn Injury Case
Each burn injury case is unique and can have different requirements for proving liability depending on who is responsible and how the accident occurred.
Negligence-Based Burn Injury Claims
Most burn injury claims are based on negligence. To hold another party accountable for their negligence and recover compensation, you must be able to establish the following:
Duty: The defendant (at-fault party) owed you a duty of care. For example, motorists owe a duty to others on the road to drive safely and prevent accidents; property owners have a responsibility to keep their premises reasonably safe for visitors, etc.
Breach: The defendant violated their duty of care. For example, a motorist driving while drunk or a property owner failing to fix a known hazard.
Causation: The defendant's actions or failure to act directly caused your burn injury, which would not have occurred if not for their behavior.
Damages: As a result, you suffered losses, such as medical bills, lost income, property damage, pain and suffering, etc.
Nevada follows the rule of "modified comparative negligence." This law allows multiple parties to be liable and can limit your compensation if you are partially to blame for your burn injury.
Here's an example, if you are awarded $100,000 and found 40 percent at fault for your accident, you will only receive 60 percent or $60,000. Having a Las Vegas burn injury attorney on your side is crucial to ensure liability falls on the appropriate party and that you obtain the compensation you are entitled to. Under this law, you are prohibited from recovering any compensation if you are found more than 50% at fault.
Strict Liability Claims
In defective product cases, you may be able to hold the negligent manufacturer or another party strictly liable for your burn injury. Under this legal theory, evidence of negligence is not required. You must only prove that the product was defective in a way that made it unreasonably dangerous, and the defect caused their injury.
How Long Do I Have to File a Burn Injury Claim in Las Vegas, NV?
Each state has a time limit known as the "statute of limitations" for filing any type of burn injury claim. In Nevada, burn injury victims have two years to pursue a burn injury lawsuit based on negligence. Failing to do so within the allotted time will cost you your right to obtain the compensation you are owed. However, some exceptions may extend the amount of time you have. Have your case evaluated by an attorney to discuss the exact amount of time you have left.
When defective products cause burn injuries, you have four years to file a product liability claim. If a government employee or agency caused the burn injury accident, there are shorter time requirements. In these cases, burn injury victims have only six months to notify the liable government agency of their intent to file a lawsuit. If you lost a loved one due to a burn injury, explore your legal options for filing a wrongful death claim with an experienced Las Vegas wrongful death lawyer.

Types of Burns
Burns are classified into different categories based on how deeply the burn might have penetrated a person's skin.
First-Degree Burns
First-degree burns are the least serious compared to other burns. However, they are painful and cause the top layer of skin to become red and sore. These are the typical household or work-related minor burns that often occur.
Second-Degree Burns
Second-degree burns affect the lower layer of skin, resulting in painful swelling and blisters. There will be blistering, moderate to severe pain, swelling, and discoloration.
Third-Degree Burns
Third-degree burns or full-thickness burns, are the most serious. They burn through the bottom layer of skin into the muscle and tissue. This can impact your ability to move at the burn location. It can also result in permanent scarring, discoloration, raised/jagged skin, and numbness at the burn site. Third-degree burns may not be painful at first since the nerve endings have been burnt, but can require surgery and/or skin grafts.
Fourth-Degree Burns
Fourth-degree burns can be fatal. All levels of skin are burned through along with fat, nerves, tendons, and muscles, often due to prolonged exposure to flames. The bones can even be affected. Victims who survive, will likely have irreparable charring and a waxy, stiff, or leathery appearance.
Causes of Burn Injuries
We are prepared to handle fire & burn injury claims involving a wide range of factors. Burn injuries can happen in any accident, but certain types create an increased risk of burns, including the following:
Motor Vehicle Accidents
Millions of car accidents happen each year, and many result in severe injuries, including burns. Burn injuries might occur if a vehicle catches fire or when flammable liquid leaks and catches fire or causes an explosion.
Workplace Accidents
Many types of workers can easily suffer a burn injury while on the job when employers fail to maintain a safe working environment. Construction workers are at an exceptionally high risk because they often work with high voltage electricity, open flames, equipment that runs hot, and flammable or caustic chemicals.
Building Fires
Fires are often caused by cooking, defective wiring, electrical issues, smoking, and unattended indoor or outdoor fires. Property owners must comply with fire safety codes and have working fire safety features, such as fire extinguishers, sprinklers, smoke detectors, etc.
Chemical Exposure
Toxic chemicals are used every day in manufacturing, construction, medicine, agriculture, industry, and in the home. Harmful exposure to poisonous chemicals can be accidental, but it is often due to deliberate or negligent industry practices.
Scalding Water
Around one-third of burns in the U.S. are caused by hot liquids. Water that reaches a temperature of 120 degrees or above causes a scalding burn, and at 140 degrees, it only takes five seconds to cause a third-degree burn. The hotter the water and the longer it remains on the skin, the more severe the burn. People can be burned by water, for example, while using a jacuzzi, hotel bathtub, when working in kitchens, etc. Employers, homeowners, or building managers can be liable in these instances.
Serious burn injuries may also occur from:
Burning automobiles
Defective gas-fired space heaters, kerosene heater, electric heaters
Fires caused by smoking
Casino and hotel fires
Fires in office complexes
Explosive gases
Defective smoke detectors
Reach out to Harris & Harris Injury Lawyers, if you have suffered a severe burn as the result of someone else's negligence. We know how difficult it can be navigating medical care, medical expenses, and the physical pain associated with severe burn injuries. There is a time limit for filing an injury claim in Nevada, so you shouldn't delay in taking action or consulting our burn injury attorneys in Las Vegas.
We will carefully listen to you and answer any questions you have, while freely evaluating your personal injury claim. Contact us online or by calling (702) 384-1414.