At Harris & Harris Injury Lawyers, we know that ATV accidents are often caused by negligent ATV rental companies or defective ATVs. Our Las Vegas ATV accident attorneys are ready to help you secure the compensation you need if you have been injured.
All-terrain vehicles, or ATVs, are fairly common on and around the Las Vegas area, especially for recreational purposes. Residents and visitors alike use ATVs to go out and have a little fun. However, these vehicles can lead to serious injuries.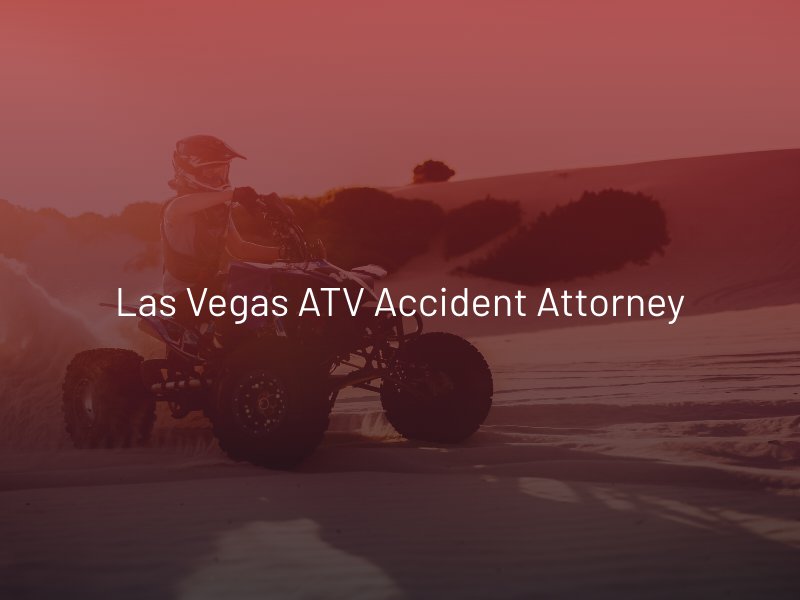 Why Are Harris & Harris Injury Lawyers the Best Choice?
At Harris & Harris Injury Lawyers, we have been helping clients in the Las Vegas area for two decades. We are committed to helping ATV victims rebuild their lives after an accident.
Our firm has a track record of success. We have secured more than $100 in settlements and verdicts for our clients.
We are client-oriented – your needs will always come first, and you will always have access to your personal injury attorney in Las Vegas.
You will pay no out-of-pocket cost and no legal fees until we secure the compensation you deserve.
What Will a Las Vegas ATV Accident Attorney Do To Help My Case?
ATV accidents can become very complicated, and they will require extensive investigation to establish liability. Your Las Vegas ATV accident lawyer will work to obtain all evidence necessary, including:
ATV owner inspection and maintenance records
ATV manufacturer safety and recall information
All accident reports, surveillance footage, and eyewitness statements from the incident
Your accident attorney will ensure you are properly evaluated by a trusted medical professional and will work with the defendant(s) to secure a settlement that covers all of your injury-related expenses.
Recoverable Damages for an ATV Accident Claim
If you or someone you care about has been injured in an ATV accident that was caused by another person's negligent actions, you may be entitled to compensation. At Harris & Harris Injury Lawyers, we understand these cases and will work to secure the following:
All of your ATV crash-related medical expenses
Lost income if you cannot work while recovering
Pain and suffering damages
Loss of enjoyment of life damages
Possible punitive damages against the ATV owner or manufacturer
Common ATV Accident Injuries
Some of the most common injuries that occur as a result of an ATV accident include:
Broken or dislocated bones
Loss of or damage to a bodily organ or organs
Dismemberment or amputation
Significant disfigurement
ATV owners must ensure that those who use their vehicles are properly trained to do so and understand how to use the ATV. All ATVs should be regularly inspected and maintained to ensure they are safe for riders.
If an ATV is defective and the defect causes injuries, the company or manufacturer of the ATV could be held liable for damages.
ATV Accident Statistics
The Consumer Protection Safety Commission keeps tabs on all known injuries and deaths related to all-terrain vehicles. When we look at their statistics, we can see that the latest reporting year saw many ATV incidents in the US:
 105,400 ATV injuries treated in hospitals
Approximately 500 to 600 people die each year in ATV accidents in this country
Contact a Las Vegas ATV Accident Lawyer
If you need a Las Vegas ATV accident attorney, you can contact us for a free consultation of your case by clicking here or by calling us at (702) 384-1414 or toll-free at 1 (800) 393-2350.