Amputations are devastating injuries that lead to lifelong disabilities for victims. If you or a loved one have lost a limb due to the careless or negligent actions of another person, you need to seek legal assistance as soon as possible. At Harris & Harris Injury Lawyers, our Las Vegas amputation attorneys are dedicated to our clients and will investigate what happened in this incident. Let our attorneys get to work on your case today so we can secure the compensation you deserve.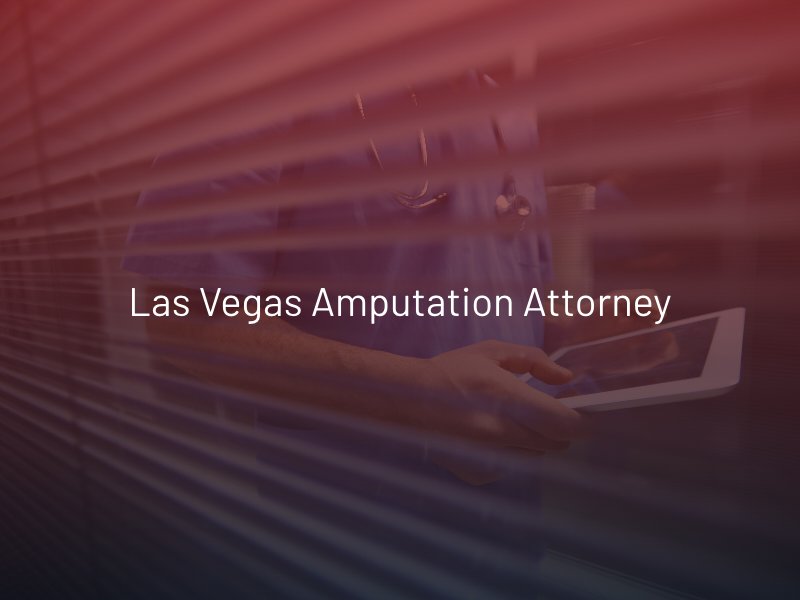 Why Should You Turn To Harris & Harris Injury Lawyers?
The Las Vegas personal injury lawyers at Harris & Harris Injury Lawyers work to develop close relationships with our clients. We are ready to bring more than 20 years of experience to your side.
We will never recommend that you take a settlement that is less than we feel your case is worth.
Our Las Vegas amputation attorneys will not hesitate to take your case to trial if that is what is necessary to obtain what you need.
You will never have to worry about legal fees until we are successful in securing the compensation you deserve.
How Will An Amputation Attorney Help Your Case?
Amputations are catastrophic injuries, and you can be certain the insurance companies will want to limit the amount of money they pay you. Your amputation attorney will fight back and work to secure maximum compensation. They will do this by:
Obtaining all evidence from the incident, including eyewitness accounts, video footage, accident reports, and more.
Ensuring you and your medical records are evaluated by a trusted healthcare professional.
Negotiating with the at-fault party to obtain compensation and preparing the case for trial if necessary to obtain a favorable outcome.
What Damages Can You Recover?
If you or someone you love has lost a limb due to the negligence of another person, you need to seek legal representation immediately. At Harris & Harris Injury Lawyers, our compassionate and experienced team will work to secure the compensation you are entitled to. This could include:
Medical Expenses
Current and future medical care related to the amputation, including emergency care and transportation, surgeries, hospitalizations, rehabilitation, prescription medications, prosthetics, adaptive medical equipment, in-home care, necessary home modifications, and any other costs for treatment.
Lost Income and Benefits
Any current and future lost wages if you are unable to work due to the amputation injury accident.
Diminished Earning Capacity
Also known as lost earning potential, which is compensation for the difference between the income you can earn now and the level of income you could have earned if you had not suffered an amputation.
Pain and Suffering
Compensation for the pain, discomfort, and disability you have and continue to endure.
Emotional Distress
Compensation for any psychological symptoms caused by the accident and amputation, such as anxiety, depression, PTSD, insomnia, etc.
Loss of Enjoyment of Life Damages
Compensation for the loss of the ability to enjoy life as you did before their injury or accident.
Punitive Damages
These damages may be available, but are reserved for cases involving a defendant who behaved egregiously or with an extremely reckless disregard for the safety of others.
The goal is to recover compensation sufficient for your current expenses and anticipated long-term financial losses due to your injury. Due to the severity of an amputation injury, these cases often yield higher settlements and awards. However, your case's worth can only be determined by its unique circumstances.
How Long Do I Have to File a Personal Injury Claim in Las Vegas?
In Las Vegas, Nevada, the statute of limitations for filing a personal injury claim is generally two years from the date of the injury or accident. This means that if you do not file a claim within two years of the incident, you may be barred from doing so in the future.
However, there are some exceptions to this rule. For example, suppose the cause for needing the amputation was not immediately apparent, such as in cases of medical malpractice. In that case, the two-year period may start from the date the cause of the injury was discovered or should have been discovered through reasonable diligence.
Amputations Are Catastrophic Injuries
An amputation will completely change a person's life. It can affect their ability to work and it can change their ability to do the things they love. Most often, the body parts that are amputated include:
Some of the most common causes of amputation injuries in Las Vegas include:
Power tool accidents
Factory accidents
There are approximately 1.7 million people living with amputations in the United States. Nearly one out of every 200 people in this country suffer an amputation. The immediate medical costs of treating these injuries can easily reach into the hundreds of thousands of dollars. Other costs to consider include:
Any necessary modifications to the home to ease mobility
Medical devices, such as wheelchairs, prosthetics, etc.
The cost of long-term rehabilitation
Vocation training to learn a new job skill
Long-term emotional and psychological trauma
What Types of Accidents Cause Amputation Injuries?
Amputation injuries can be caused by a wide range of accidents, including:
Workplace accidents: Amputation injuries commonly occur in workplaces where heavy machinery and equipment are used, such as construction sites, factories, and warehouses.
Motor vehicle accidents: When collisions result in significant trauma to a limb, amputation may be necessary to prevent further injury or infection.
Boating accidents: Amputation injuries can occur when limbs are caught in boat propellers or crushed between boats and docks.
Industrial accidents: Industrial accidents, such as explosions and fires, can result in severe injuries that require amputation.
Electrical accidents: Electrocutions can cause severe burns and damage to limbs, which may necessitate amputation.
Medical malpractice: In some cases, medical malpractice can be the cause of an amputation, such as when there is a surgical error or preventable infection that causes irreparable damage to a limb.
These are just a few examples of the types of accidents that can cause amputation injuries. If you have suffered an amputation injury due to the negligence of another party, you may have a claim for compensation.
Contact a Las Vegas Amputation Lawyer
If you need a Las Vegas amputation attorney, you can contact us for a free consultation of your case by clicking here or by calling us at (702) 384-1414 or toll-free at 1 (800) 393-2350.