There are plenty of boating opportunities around Las Vegas, popular with both residents and visitors alike. However, boating accidents can lead to serious injuries, and they often occur due to another person's negligent behavior. At Harris & Harris Injury Lawyers, our Las Vegas boat accident lawyers will investigate the boat incident and work to secure the compensation you need. Call our Las Vegas boating accident attorneys if you or someone you know has been injured and needs help.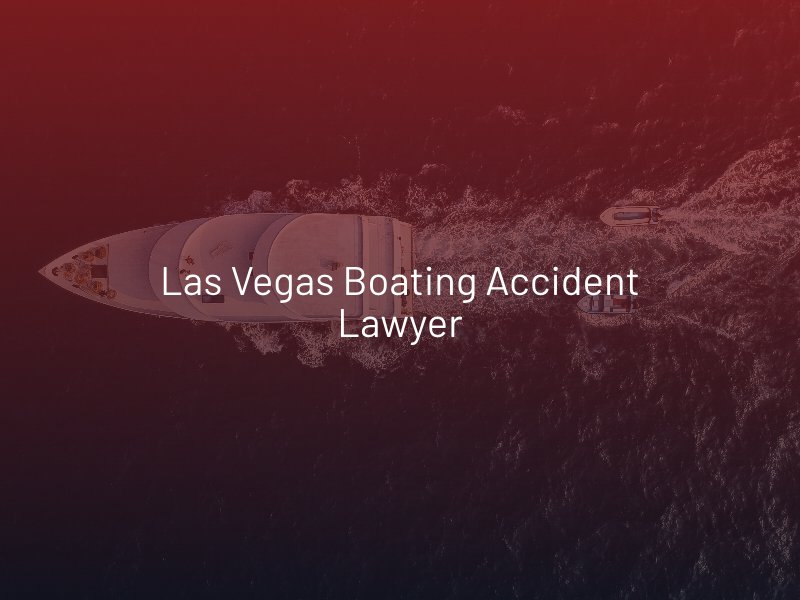 Why Choose Harris & Harris Injury Lawyers?
The team at Harris & Harris Injury Lawyers are committed to supporting our clients as they rebuild their lives after serious injuries. We give every case the attention necessary to recover maximum compensation on your behalf.
You will have an open line of contact with your injury attorney in Las Vegas throughout your case.
Our firm will spare no expense in preparing your case for trial if necessary.
You will not have to worry about any out-of-pocket cost and will owe no legal fees unless we win your case.
Why Do You Need a Boating Accident Attorney?
One of the most difficult aspects of a boating accident case is determining who is at fault. In these cases, there may be multiple parties to blame. Your Las Vegas boating accident lawyer will work to obtain all of the evidence necessary to win your case. This includes:
Accident or regulator reports from the incident
Boating company or owner safety and maintenance records
Your medical records to prove your injuries
Using the evidence gathered, your attorney will negotiate with legal teams and insurers to gain the compensation you truly deserve.
Recovering Compensation After a Boating Accident
You may be able to recover the following types of compensation after a boating accident if you can establish that another party's negligence was responsible.
Economic Damages
Compensation for actual financial losses, such as:
Current and future medical bills: Reimbursement for the treatment you received after the accident, such as emergency visits, hospital stays, physical therapy, outpatient procedures, prescription medications, ongoing care, etc. Additionally, you can recover compensation for the treatment you are anticipated to need in the future.
Property repair or replacement: Compensation for the repairs to or the value of your boat if it is a complete loss, as well as any other personal property damaged in the crash (e.g., cell phone, iPad, purse, clothing, etc.)
Current and future lost wages from missing work while you recover.
Diminished earning capacity: If you are no longer able to work at the same level as before the accident, you can recover compensation for the difference in income.
Non-Economic Damages
Compensation for subjective losses that do not have a monetary value, for instance:
Pain and suffering: The physical pain and suffering that you have had to endure.
Emotional distress: If the accident caused any mental anguish or psychological conditions, such as terror, anxiety, shock, depression, sorrow, confusion, insomnia, etc.
Loss of enjoyment of life: If you are physically limited due to your injury and cannot engage in the activities you previously could enjoy.
Loss of opportunity: If your injuries deprive you of the chance to obtain a benefit or avoid a loss.
Loss of consortium: A spouse can recover this type of compensation for how your injury has impacted your marital relationship.
Physical impairment (e.g., disability, loss of a limb).
Disfigurement: If your injury leaves permanent scarring or a deformity that you must now live with.
Punitive Damages
This type of compensation is rarely awarded and is only granted in cases involving an at-fault party who exhibited an extreme disregard for the safety of others.
How Do Boating Accidents Occur?
The US Coast Guard gathers data on all boating crashes in the country. During the latest reporting year, there were 4,291 boating accidents. Out of those, there were 2,629 injuries and 658 deaths. In Nevada, there have been hundreds of boating accidents, many of them causing severe injuries and multiple fatalities.
Boating accidents are usually preventable, and the Coast Guard says that many occur due to:
Operator Inattention: Inattention can be caused by a number of factors, such as texting or talking on the phone, distractions on board the vessel, fatigue, or simply not paying attention to the surroundings.
Improper Lookout: When the person responsible for keeping watch and observing the surrounding waterways fails to do so properly.
Operator Inexperience: Operators who lack experience or training may not know how to properly navigate the water or respond to changing conditions, increasing the risk of accidents.
Machinery Failure: Equipment failures, such as engine or steering system malfunctions, can cause accidents or make it difficult for the operator to control the vessel.
Alcohol Use: Boating while under the influence of drugs or alcohol can impair judgment, reaction time, and coordination.
Excessive Speed: Speeding can increase the risk of collisions with other boats or objects in the water.
Navigation Rules Violation: These rules include requirements for the right-of-way, speed limits, and other important safety considerations that when a boater violates one, it can create unsafe conditions and increase the risk of accidents.
Weather and Hazardous Waters: Chances of an accident are higher when boating in rough weather or water, particularly if the operator is inexperienced or the vessel is not designed for those conditions.
Common Injuries from Boating Accidents
Injuries from these crashes can be severe, and it is not uncommon for our Las Vegas boating accident lawyers to help clients suffering from the following:
Broken and dislocated bones
Severe lacerations
Internal organ damage
Internal bleeding
Whiplash injuries
Concussions
These injuries range in severity and can lead to major expenses for victims and their families, including lost income if a victim cannot work due to their injuries.
Nevada Boating Regulations
Nevada has various boating regulations in place to ensure the safety of everyone on the water. Some of those regulations include the following:
Boating Education
Nevada requires all boat operators born after January 1, 1983, to have a valid boater education card. This requirement applies to both residents and non-residents.
Age Requirement
Those operating a personal watercraft (PWC) must be at least 14 years of age. If the vessel is towing a person on waterskis, a surfboard, or any other device, the operator must be 16 years old or 14 with a person on board who is at least 18.
Life Jackets
Every person on board a vessel must have a USCG-approved life jacket that fits them properly and is readily accessible. Children under the age of 13 must wear a life jacket at all times while the vessel is underway unless they are in an enclosed cabin.
Speed Limits
Speed limits vary depending on the body of water, but in general, vessels must maintain a safe speed that is reasonable for the conditions and does not create a wake that could cause damage to other boats or shorelines.
Navigation Lights
Boats must display proper navigation lights between sunset and sunrise and during periods of restricted visibility, such as fog or heavy rain.
Boating Under the Influence (BUI)
It is illegal to operate a vessel while under the influence of drugs or alcohol. The legal blood alcohol limit is 0.08%, similar to driving a vehicle.
Invasive Species Prevention
Boaters are required to take steps to prevent the spread of invasive species by cleaning their boats and removing any vegetation or other materials that may be clinging to the boat or its trailer.
Dangerous Weather
Boaters must avoid operating their vessels during dangerous weather conditions. They are recommended to monitor weather conditions before setting out on the water and take appropriate precautions to ensure their safety.
Nevada Statute of Limitations for Boating Accidents
In Nevada, the statute of limitations for personal injury claims arising from boating accidents is two years from the date of the injury. If compensation is not pursued within this two-year period, the injured person will likely lose their right to seek compensation for their injuries. There are some exceptions to this deadline, but they are rare.
For example, if the injured person was a minor at the time of the accident, the two-year period may be extended until they reach the age of 18. Additionally, the statute of limitations may be extended if the boat owner or operator acted with fraud or intentional misconduct.
What To Do After a Boat Accident
If you are involved in a boat accident, it is critical to take the following steps:
Check for injuries: The first priority is to ensure the safety of everyone involved in the accident. Check for injuries and call for medical help if necessary.
Report the accident: Depending on the severity of the collision, you may need to report it to the U.S. Coast Guard, local law enforcement, or other authorities. It is essential to follow any reporting requirements that apply to your situation.
Exchange information: Get the contact information of the other parties involved in the accident, including their names, addresses, and phone numbers. You should also exchange insurance information.
Document the scene: If you can, take photos or videos of the accident scene, any damage to the boats or property, and your injuries. This can be helpful when filing an insurance claim or pursuing legal action.
Get witness information: If there were any witnesses to the accident, get their names and contact information. They may be able to provide objective information about what happened to the insurance company.
Seek medical attention: Even if you do not think you are injured, it is important to get checked out by a medical professional as soon as you leave the scene. Some injuries, such as whiplash or concussion, may not be immediately apparent.
Contact an attorney: If you have been injured in the accident, consult with an experienced boating accident attorney. Then experienced lawyer can help you understand your legal options and help you pursue fair compensation.
Following these steps can help protect your legal rights and ensure that you recover the compensation you need after a boat accident.
How and When to Report a Boating Accident in Nevada
In Nevada, boating accidents must be reported if they result in a death, disappearance, injury beyond first aid, or property damage exceeding $2,000. The Nevada Department of Wildlife (NDOW) should receive notice of an incident within 48 hours. Additionally, any boating accident that involves a fatality, disappearance, or injury beyond first aid must also be reported to the U.S. Coast Guard immediately.
To report a boating accident in Nevada, contact NDOW at (775) 688-1549 or (775) 688-1547. You will be asked to provide information such as the date, time, and location of the accident, the type of vessel involved, and the names and contact information of the parties involved. Failure to report a boating accident as required by law can result in penalties and fines. Additionally, failure to report an accident could limit your ability to pursue legal action if you later decide to seek compensation for your injuries and other related losses.
Contact Our Las Vegas Boating Accident Lawyers Today
If you or someone you love has been injured in a boating incident that was caused by another person's reckless or careless actions, seek legal assistance today. At Harris & Harris Injury Lawyers, our skilled and experienced team will investigate what happened so we can secure the compensation you need. This could include:
Coverage of your medical bills and physical therapy costs
Compensation for lost income if you cannot work
Mental anguish damages
Loss of enjoyment of life damages
Possible punitive damages against the boat operator or owner
When you need a Las Vegas boating accident attorney, you can contact us for a free consultation of your case by clicking here or by calling us at (702) 384-1414 or toll-free at 1 (800) 393-2350.