At Harris & Harris Injury Lawyers, our Las Vegas car accident lawyers are dedicated to helping clients recover the maximum compensation they are entitled to after a crash. Let our Las Vegas car accident attorneys get to work investigating your crash today.
Las Vegas is a crowded place, and vehicle accidents are not uncommon. However, if you are injured in a car crash that was caused by another person's negligence, you may need to seek legal assistance from an experienced attorney.
Let Harris & Harris Injury Lawyers Take Your Auto Accident Case
There is no law firm better suited to help your car accident case than Harris & Harris Injury Lawyers. We have been helping those injured in Las Vegas crashes for more than 20 years.
Our personal injury attorneys work to develop close relationships with each client so we can understand your individual needs for your personal injury claim.
We promise to never recommend you settle for less than we feel your case is worth.
You will not pay any upfront legal costs and will only owe legal fees if our law firm is successful in your case. We work on a contingency fee basis.
Case Results
Our Las Vegas accident lawyers have secured tens of millions of dollars on behalf of our clients. Below are a few of our many successful case results:
$4.95M in a Las Vegas t-bone car accident with a utility company truck
$3.77M in a Las Vegas rear end collision on the US-95 freeway
$3.45M in a Las Vegas rear end collision near Rancho and the US-95 freeway
Navigate This Page
Why Hire a Car Accident Lawyer in Las Vegas?
Motor vehicle accident cases are rarely straightforward. Often, the at-fault driver's insurance carrier will work to lower the amount they have to pay out in a settlement, and they may try to blame you for the crash. These cases require attention to detail and evidence gathering.
Using police reports, photo and video surveillance, and eyewitness accounts, your accident attorney will prove the other driver's liability. With your medical records and proof of lost income, your auto collision lawyer will work to negotiate a settlement that covers all of your crash-related expenses.
How is Fault Determined in a Car Accident?
Since Nevada is a fault-based state, the insurance companies associated with the drivers involved will determine fault by conducting their own investigations into how an accident was caused. The typically involves inspecting damage to the vehicle, reviewing photos of the accident scene submitted by claimants, speaking to all parties who were present, looking over medical bills and records related to claimed injuries, and most importantly, assessing the police report. The adjusters will then use all of this information to issue a report on who they believe is at fault for the accident.
Due to the rule of modified comparative negligence, or shared fault rule, parties must be less than 50 percent responsible for their own injuries or damages to seek compensation.

How Do I File an Auto Insurance Claim in Las Vegas?
Even though you may not be at fault for a car accident, you need to contact your insurance company to report the crash. Your insurance policy likely requires all car accidents to be reported, regardless of fault. Failing to report the car accident could prevent you from receiving certain benefits under your policy. If you have questions, a Las Vegas auto accident attorney can help you handle this step in the car accident claims process.
After you notify your insurance company about the accident, a claim adjuster will likely request the following information:
The date and location of the incident.
The names, addresses and insurance information of all others involved in the incident.
A description of what happened.
The name of the police department that responded and the police report number, if applicable.
You can and should give a statement to your own insurance company, but not to the at-fault driver's insurer. As soon as the insurance claim process begins, assume that anything you say to the other party, and his or her insurance company, is being recorded. The description you give of the accident can be used against you at a later time, especially if you admit to any responsibility for the accident.
What Compensation Are You Entitled to After a Car Accident?
If you or someone you love has been injured in a car accident that was caused by another driver's careless or negligent actions, you should seek legal assistance today. At Harris & Harris Injury Lawyers, our Las Vegas car accident lawyers are dedicated to helping clients secure the compensation they deserve through settlements or verdicts. This could include:
Compensation for your crash-related medical bills and medical care
Lost wages and benefits if you cannot work while you recover
General household expenses
Pain and suffering damages
Compensation for property damage
Possible punitive damages against a grossly negligent driver
What are the Minimum Car Insurance Requirements in Nevada?
Similar to other states, Nevada law requires drivers to have a minimum amount of liability insurance, which are as follows:
$25,000 per person for bodily injury
$50,000 per accident for bodily injury
$20,000 per accident for property damage
Motorists are not required to purchase insurance that pays for their own injuries or property damages. However, purchasing additional coverage ensures a driver is protected if they are ever injured in an automobile accident.
Common Causes of Car Accidents
There are a number of reasons why car accidents happen every day, but the following are the most common in Las Vegas:
Distracted Driving
Drivers can easily lose focus while driving if they engage in other activities. When they aren't paying attention to what's going on around them, they may swerve into another lane or not notice break lights in enough time to stop. Cellphones are a major culprit of distracted driving, whether it is taking a call, texting, taking pictures, or using social media. Like most states, it is illegal to use a handheld device in Nevada. Other forms of distractions, include eating or drinking, operating GPS, adjusting the radio, putting on makeup or grooming, and tending to children or pets that are also in the vehicle.
Speeding
For more than 20 years, approximately one-third of all auto accident fatalities have involved speeding, according to the National Highway Traffic Safety Administration (NHTSA). Drivers who exceed the speed limit are a danger to themselves and other motorists or pedestrians. Many car accidents occur when a driver is unable to stop in time to prevent an accident.
Driving Under the Influence
This includes driving under the influence of alcohol or drugs, both of which are illegal. Alcohol was involved in 31% percent of all crash-related fatalities and in 2021 there were 13,384 people killed in these preventable crashes, according to the NHTSA.
Under Nevada DUI laws, a drunk driver can be arrested for driving with a blood alcohol concentration (BAC) over 0.08%. However, the limits are stricter for commercial drivers (0.04%), and drivers under the age of 21 (0.02%).
Driver Fatigue
One of the most common impairments that can cause a car accident is from fatigue or lack of sleep. Drowsy driving can be compared to that of drunk driving, as it can impede your judgement and slow response time. Many car accidents occur when drivers don't check their blind spot or fail to spot other vehicles or pedestrians.
Reckless Driving
Car accidents are often caused by drivers who fail to follow the rules of the road and traffic laws. Some examples of actions that are considered reckless, include tailgating, failing to stop at red lights or stop signs, speeding, braking suddenly, failing to use turn signals, not using headlights, and Making illegal turns or lane changes.
Las Vegas Car Accident Statistics
In 2022, the latest period of data available for the state of Nevada, there were:
382 motor vehicle fatalities in 2022, a decrease of 0.78% from 385 fatalities in 2021
A total of 352 crashes in 2022, a decrease of 2.22% compared to 360 crashes in 2021
Clark County saw an increase in deadly crashes in 2022 with 246 fatalities, up 4% from 2021's 236 crashes
Many of these incidents were the result of negligent driver actions. This can include:
Drivers distracted by their cell phones or other devices
Those who disregard traffic laws and speed limits
Failing to yield the right-of-way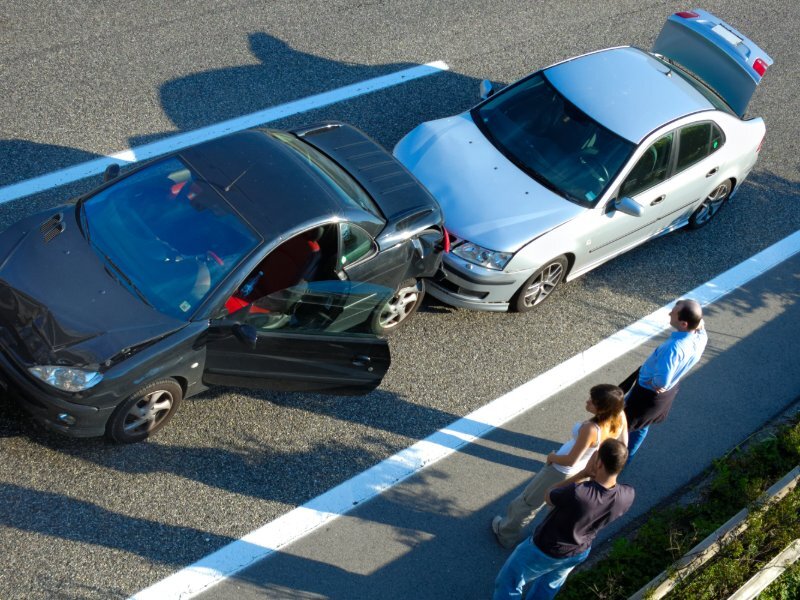 Common Car Accident Injuries
Auto accident injuries vary in severity. Our Las Vegas car accident attorneys regularly help clients suffering from the following:
Broken bones
Dislocated bones
Emotional distress
Head injuries
Severe lacerations
Internal organ damage
Internal bleeding
Whiplash injuries
Concussions
In many cases, accident victims cannot work while they recover from their serious injuries. This can lead to a loss of income, making it hard to pay for household expenses and incoming medical expenses. If you lost a family member or loved one due to negligence in a car accident case, speak with a wrongful death lawyer in Las Vegas to learn more about your legal options.
Contact Our Las Vegas Auto Accident Lawyer Today
If you need a Las Vegas car accident lawyer, you can contact our law firm for a free consultation about your car accident claim by calling us at (702) 384-1414 or toll-free at 1 (800) 393-2350. We proudly serve Clark County for personal injury matters and motor vehicle accident cases.
---
"If you have been in an accident and are looking for truly genuine and honest professionals who can help you sort out all of the frustration, confusion, and pain of having to deal with an ordeal like this I truly believe this is the law firm to employ. The attorneys here are patient, kind, approachable, and knowledgeable."

– Renée Q.