At Harris & Harris Injury Lawyers, our knowledgeable and experienced team of Las Vegas bicycle accident lawyers will work to investigate any bike crash you are involved in. Our goal is to secure the financial compensation you deserve. Call us when you need a Las Vegas bike accident attorney.
Many people enjoy riding bikes in and around the Las Vegas area, whether for recreation or as a method of transportation from place to place. However, bicycle crashes can lead to serious injuries for the bicyclists, and they often cause severe injuries.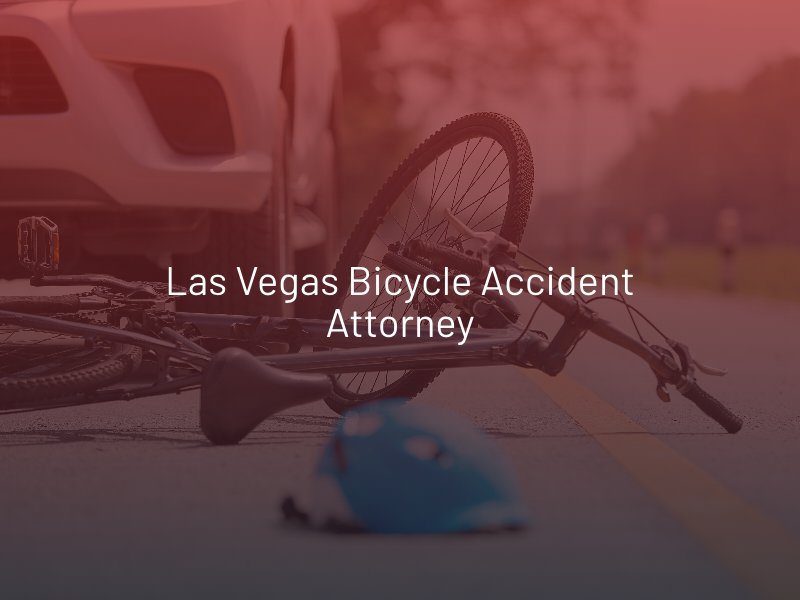 Do I Need a Bicycle Accident Lawyer in Las Vegas?
The personal injury team at Harris & Harris Injury Lawyers has more than 20 years of experience to bring to your bicycle accident case, and we understand that you need help through this.
We believe in getting the best possible results that will meet your goals and needs. We will not take a settlement that does not meet your expectations.
Our personal injury lawyers in Las Vegas are focused on our clients, and you will always be able to speak to your attorney about your personal injury claim.
You pay us nothing until we are successful with your bicycle accident claim.
How Will An Attorney Help Your Bicycle Accident Case?
Even though a bicycle accident case may seem straightforward, that is rarely the case. The at-fault driver's insurance company will try to lower any settlement they pay, but your accident attorney will not let that happen. A skilled Las Vegas bicycle accident lawyer will:
Gather Evidence
Conduct a thorough investigation into the accident to obtain all of the evidence from the scene, including the police report and any surveillance available. They will speak to eyewitnesses who saw what happened.
Determine Liability
A skilled lawyer can review the evidence and assess who was at fault for the accident. They can identify responsible parties, such as negligent drivers, road maintenance entities, or even vehicle or bicycle manufacturers in cases involving product defects.
Proper Medical Care
An attorney will ensure you are evaluated by a trusted doctor and receive the care you need. In addition, they will use your medical records to assess your total damages.
Prepare Your Case for Settlement Negotiations or Trial
Dealing with insurance companies can be complex and overwhelming, especially when you are recovering from injuries. A bicycle accident lawyer can handle all communication with insurers on your behalf. They will be prepared to negotiate a fair settlement or represent you at trial, whichever route will secure the compensation you need.
What Type of Damages Can I Collect in a Bicycle Accident Case?
If you or someone you care about has been injured in a bike crash that was caused by another person's actions, seek legal assistance today. At Harris & Harris Injury Lawyers, our Las Vegas bicycle accident lawyers know that these incidents can be devastating, and we will work to secure the compensation you deserve. This includes:
Medical Expenses
All of your bike crash-related medical expenses, including costs such as hospitalization, emergency treatment, surgeries, doctor visits, prescription medications, rehabilitation, physical therapy, assistive devices, and anticipated future medical bills.
Lost Wages
Lost income if you cannot work while you recover. This can include wages, salary, bonuses, commissions, and other forms of income that would have been earned if not for the accident.
Property Damage
If the bicycle or other personal property was damaged in the accident, compensation can be sought for the repair or replacement costs.
Pain and Suffering Damages
This type of compensation is intended to compensate for the physical pain, emotional distress, and mental anguish experienced as a result of the accident and the injuries sustained. It is often subjective and can vary based on the severity and long-term impact of the injuries.
Loss of Enjoyment of Life Damages
If the accident causes long-term or permanent disabilities or disfigurement, compensation may be available to address the impact on the injured party's quality of life and inability to engage in activities they previously enjoyed.
Loss of Consortium
In some cases, the spouse or family members of the injured party may be entitled to compensation for the loss of companionship, affection, and support resulting from the injuries suffered in the accident.
Punitive Damages
In cases where the at-fault party's conduct was particularly reckless or intentional, punitive damages may be awarded. These damages aim to punish the defendant and deter similar behavior in the future.
How Much Does a Bicycle Accident Lawyer Cost?
Many bicycle accident lawyers work on a contingency fee basis. Under this arrangement, the lawyer does not charge upfront fees but instead receives a percentage of the compensation you receive if they win your case. Typically, the contingency fee ranges from 25% to 40% of the awarded amount. If the lawyer does not win your case, you do not owe them any legal fees.
Who is Liable for a Bicycle Accident in Las Vegas?
In Nevada, liability for a bicycle accident depends on the specific circumstances surrounding the incident. However, here are examples of parties that are commonly responsible:
Negligent Drivers
If a driver fails to exercise reasonable care and causes an accident with a bicyclist, they may be held liable for the damages. Examples of driver negligence can include distracted driving, speeding, running a red light or stop sign, failing to yield, drunk driving, or aggressive driving.
Government Entities
If a bicycle accident occurs due to hazardous road conditions, such as potholes, inadequate signage, or malfunctioning traffic signals, the entity responsible for road design or maintenance (such as a government agency or municipality) may be held liable.
Bicycle Manufacturers or Distributors
If the accident was caused by a defect in the bicycle itself, such as a faulty part or design flaw, the manufacturer or distributor of the bike may be held responsible. This can include cases involving issues with the brakes, tires, frame, or other components.
Other Parties
Depending on the specific circumstances, other parties may also be potentially liable. For example, if the accident was caused by a pedestrian, another cyclist, or a third-party contractor performing work near the road, they may share liability for the accident.
Nevada follows a comparative negligence system, which means that liability can be shared between multiple parties based on their respective degrees of fault. If the bicyclist is found partially at fault for the accident, their compensation may be reduced proportionally. However, as long as the bicyclist's fault is less than 51%, they may still be eligible to recover damages.
How Long Do I Have to File a Claim?
In Nevada, you generally have a two-year window to initiate a bicycle accident claim seeking compensation for your injuries and damages. There are a few rare exceptions that may allow you to still file a claim even after the statute of limitations has passed. However, it typically means that you have lost your legal right to pursue a claim for compensation.
What To Do After a Bicycle Accident in Las Vegas
Here are some important steps to take after a bicycle accident:
Move to Safety: Immediately get off the road and move to a safe location to avoid any oncoming traffic.
Call 911: It is always best to notify the police of an accident, even if your injuries do not seem severe. Emergency responders will arrive to treat you at the scene, and an officer will create an accident report, which will be vital to your insurance claim.
Seek Medical Care: See a doctor as soon as you leave the scene if you are not immediately taken to the hospital. Severe injuries can have delayed symptoms, and medical documentation linking your injuries to the accident is crucial.
Document the Scene: If you can, gather as much information from the accident scene as possible. Take photos and videos of where the collision occurred, the surrounding area, the vehicle, your bike, and injuries.
Witnesses: Ask any witnesses for their contact information and if they will make a statement, which you can record on your phone. Any objective testimony from third parties can play an essential part in helping you recover fair compensation.
Don't Discuss Fault: Refrain from talking about who was to blame while at the scene of the accident, as this can unintentionally affect your claim.
Contact an Experienced Las Vegas Bicycle Accident Lawyer: They can help protect your rights, guide you through the legal process, and assist in gathering evidence, dealing with insurance companies, and pursuing any legal claims for compensation.
What are Common Injuries from Bicycle Accidents?
Bicycle accidents can be devastating to victims in Las Vegas. Those riding a bicycle have little protection from the force of a motor vehicle. Even those wearing helmets are susceptible to serious injuries. Our Las Vegas bicycle accident attorneys regularly help bicycle accident victims suffering from the following after an incident:
Broken bones
Dislocated bones
Internal injuries or internal bleeding
Severe road rash or skin scrapes
Significant disfigurement
If you lost a loved one in Las Vegas, Nevada in a bike accident, you may be able to pursue a wrongful death claim with the help of a wrongful death lawyer.
How Common Are Bicycle Accidents in Las Vegas?
When we turn to the Nevada Department of Transportation, we can see that there were over 1,000 total bicycle crashes in Las Vegas from 2015 to 2017, the latest reporting years available. Out of these incidents, over 1,000 people were injured and 25 people lost their lives.
Common Causes of Bike Accidents
Often, the negligent actions of motor vehicle drivers are the cause of bicycle crashes:
Drivers who disregard traffic laws
Failing to yield the right-of-way
Impaired drivers
Distracted drivers
Other common causes of bicycle accidents in Las Vegas can include:
Dooring accidents
Side swiping accidents
Poor road conditions
Bad weather
Contact an Experienced Las Vegas Bicycle Accident Attorney
If you need an experienced bicycle accident attorney in Las Vegas after sustaining serious injuries in a bike accident, contact our personal injury law firm. Get in touch online for a free consultation of your case or by calling us at (702) 384-1414 or toll-free at 1 (800) 393-2350. Our personal injury law firm helps bicycle accident victims file accident claims in Clark County.