At Harris & Harris Injury Lawyers, our knowledgeable and experienced team of Las Vegas bicycle accident lawyers will work to investigate any bike crash you are involved in. Our goal is to secure the financial compensation you deserve. Call us when you need a Las Vegas bike accident attorney.
Many people enjoy riding bikes in and around the Las Vegas area, whether for recreation or as a method of transportation from place to place. However, bicycle crashes can lead to serious injuries for the bicyclists, and they often cause severe injuries.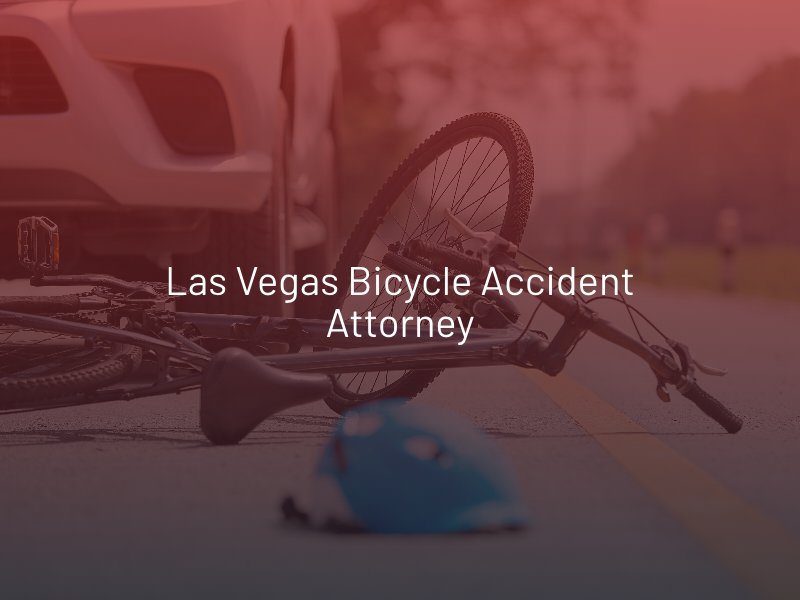 Do I Need a Bicycle Accident Lawyer in Las Vegas?
The personal injury team at Harris & Harris Injury Lawyers has more than 20 years of experience to bring to your bicycle accident case, and we understand that you need help through this.
We believe in getting the best possible results that will meet your goals and needs. We will not take a settlement that does not meet your expectations.
Our personal injury lawyers in Las Vegas are focused on our clients, and you will always be able to speak to your attorney about your personal injury claim.
You pay us nothing until we are successful with your bicycle accident claim.
How Will An Attorney Help Your Bicycle Accident Case?
Even though a bicycle accident case may seem straightforward, that is rarely the case. The at-fault driver's insurance company will try to lower any settlement they pay, but your accident attorney will not let that happen. A skilled Las Vegas bicycle accident lawyer will:
Obtain all of the evidence from the scene, including the police report and any surveillance available. They will speak to eyewitnesses who saw what happened.
Ensure you are evaluated by a doctor and use your medical records to assess your total damages.
Prepare your personal injury case for settlement negotiations or trial, whichever route will secure the compensation you need.
What Type of Damages Can I Collect in a Bicycle Accident Case?
If you or someone you care about has been injured in a bike crash that was caused by another person's actions, seek legal assistance today. At Harris & Harris Injury Lawyers, our Las Vegas bicycle accident lawyers know that these incidents can be devastating, and we will work to secure the compensation you deserve. This includes:
All of your bike crash-related medical expenses
Anticipated future medical bills
Lost income if you cannot work while you recover
Pain and suffering damages
Property damage
Loss of enjoyment of life damages
Possible punitive damages against the driver
What are Common Injuries from Bicycle Accidents?
Bicycle accidents can be devastating to victims in Las Vegas. Those riding a bicycle have little protection from the force of a motor vehicle. Even those wearing helmets are susceptible to serious injuries. Our Las Vegas bicycle accident attorneys regularly help bicycle accident victims suffering from the following after an incident:
Broken bones
Dislocated bones
Internal injuries or internal bleeding
Severe road rash or skin scrapes
Significant disfigurement
If you lost a loved one in Las Vegas, Nevada in a bike accident, you may be able to pursue a wrongful death claim with the help of a wrongful death lawyer.
How Common Are Bicycle Accidents in Las Vegas?
When we turn to the Nevada Department of Transportation, we can see that there were over 1,000 total bicycle crashes in Las Vegas from 2015 to 2017, the latest reporting years available. Out of these incidents, over 1,000 people were injured and 25 people lost their lives.
Common Causes of Bike Accidents
Often, the negligent actions of motor vehicle drivers are the cause of bicycle crashes:
Drivers who disregard traffic laws
Failing to yield the right-of-way
Impaired drivers
Distracted drivers
Other common causes of bicycle accidents in Las Vegas can include:
Dooring accidents
Side swiping accidents
Poor road conditions
Bad weather
Contact an Experienced Las Vegas Bicycle Accident Attorney
If you need an experienced bicycle accident attorney in Las Vegas after sustaining serious injuries in a bike accident, contact our personal injury law firm. Get in touch online for a free consultation of your case or by calling us at (702) 384-1414 or toll-free at 1 (800) 393-2350. Our personal injury law firm helps bicycle accident victims file accident claims in Clark County.