You can count on Harris & Harris Injury Lawyers to be by your side if you or a loved one have sustained a spinal cord injury. Our Las Vegas spinal cord injury lawyers want to get to work on your case today so you can get the financial compensation you deserve.
Spinal cord injuries are often devastating for victims. Depending on the severity, they can lead to lifelong disabilities. Unfortunately, many spinal injuries happen due to another person's carelessness or negligence.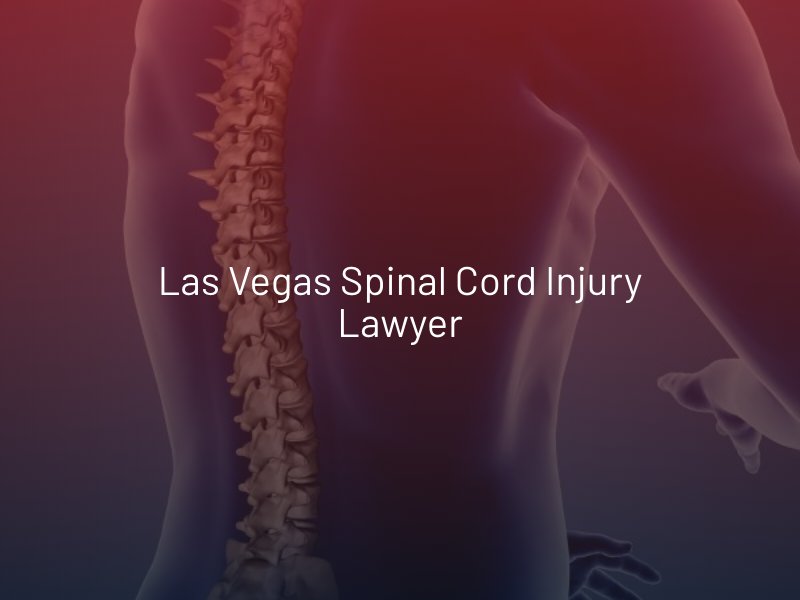 Why Choose Harris & Harris Injury Lawyers for Your Spinal Cord Case?
At Harris & Harris Injury Lawyers, we have been helping the Las Vegas community for over 15 years. We take the time to get to know our clients.
We will ensure your case gets personalized attention from your Las Vegas personal injury lawyer.
Our personal injury law firm has a success rate of 99% for injury cases and has secured over $100 million for clients.
All cases are taken on a contingency fee basis, meaning you will pay nothing until we secure the full compensation you deserve.
Navigate This Page
How Can a Spinal Cord Injury Lawyer Help Your Case?
Because of the severity of spinal injuries, an attorney is going to be necessary to handle the complexities and technicalities of the case. This often includes:
Extensive investigation into the incident that caused the spinal cord injury.
Ensuring that you are properly evaluated by a trusted health care professional.
Properly calculating all of your total losses due to the spine injury.
Negotiating with the defendant or insurance company to reach a fair settlement on your behalf.
Are You Entitled to Compensation for Your Spinal Cord Injuries?
A spinal cord injury can have a devastating impact on every aspect of your life. From the agonizing pain to the unanticipated amount of medical bills, your quality of life has most likely drastically changed. If your spinal cord injury was caused by another person's careless or negligent actions, you might be entitled to significant financial compensation. This could include:
Hospital bills
Rehabilitation costs
Prescription medications
Extended care and nursing home
Future medical care
Home renovation
Specialized equipment
Lost wages
Diminished earning capacity
Pain and suffering
Loss of enjoyment of life
Possible punitive damages against the defendant if they acted egregiously or exhibited gross forms of negligence
The lifetime costs associated with a spine injury can be excessive. It is vital to hire an experienced lawyer who can ensure you recover the amount of compensation you will need for a lifetime of care. The table below shows the average amounts of lifetime costs based on the age when the injury occurred, courtesy of NSCISC.
| | | |
| --- | --- | --- |
| Injury Severity                                                | 25 Years Old               | 50 Years Old               |
| High Tetraplegia (C1-C4) AIS ABC | $5,162,152 | $2,837,031 |
| Low Tetraplegia (C5-C8) AIS ABC | $3,771,791 | $2,319,988 |
| Paraplegia AIS ABC | $2,524,270 | $1,656,602 |
| Motor functional at Any Level AIS D | $1,724,594 | $1,217,266 |
These figures were developed from the costs of medical care and living expenses, such as hospitalization(s), medical consultations, surgery, prescription drugs, medical devices, alternative medical treatments, and caregiving costs. Shockingly, the estimates do not include indirect costs, such as lost wages, fringe benefits, and productivity. The center reports that these indirect costs would, on average, add up to more than $75,000 per year.
At Harris & Harris Injury Lawyers, our Las Vegas spinal cord injury attorneys are going to put our decades of experience to work on your case so we can secure the compensation you deserve.
How Long Do You Have to File a Claim?
Spinal cord injury victims have a limited amount of time to file a claim under Nevada's statute of limitations. This law (Nev. Rev. Stat. § 11.190(4)(e)) states that a personal injury claim must be filed within two years from the date the injury occurs. If you fail to file within that time, your personal injury case will likely be dismissed, and the courts will bar you from obtaining any compensation.
Two years can seem like a long time, but it's not. Here are just some reasons why you shouldn't wait before filing a lawsuit:
Evidence tends to disappear the longer you wait. Your attorney will want to visit the scene of the accident, subpoena witnesses before they leave the state, and get fresh recollections.
Researching and determining which parties are liable takes time.
The more time your attorney has to get a lawsuit drafted, on file with the clerk and served on the defendant(s), the better. The first filing with the court must be correct, not rushed, and sloppy, which can damage your claim.
Insurance companies are keenly aware of the statute of limitations and will sometimes string along a potential settlement offer to run out the statute of limitations.
If it is very late in the process, your legal options may be limited, as many spinal cord injury attorneys will not take on cases that are close to reaching the statute of limitations.
In certain situations, a victim may not know that they suffered a spinal cord injury. If that is the case, the discovery rule may apply, which can extend the two-year statute of limitations. This rule states that the time limit will begin to run on the date that the injury is discovered or should have reasonably been discovered.
Another factor that can impact the length of time you have to file a spinal cord injury claim is how your injury occurred. For instance, if you were harmed as a result of medical malpractice or a defective product, you may have three years to pursue compensation.
An attorney can help you identify the correct statute of limitations for your case and assist you with taking the necessary steps to ensure that you are able to bring your claim against the defendant.
What are the Main Causes of Spinal Cord Injuries?
Injuries to the spinal cord can completely alter a person's life. According to the National Spinal Cord Injury Statistical Center (NSCISC) there are approximately 18,000 new spinal cord injuries in the US each year. These injuries happen in various ways. The NSCISC data shows that the commonly occur due to:
Car accidents (38.3%)
Falls (31.6%)
Violence (13.8%)
Sports and recreation incidents (8.2%)
Medical or surgical mistakes (4.6%)
Other (3.5%)
These injuries lead to tremendous medical expenses for victims and their families. The first year of medical care and treatment for a spinal injury ranges from $359,000 to over $1.1 million, depending on the severity of the injury. Each following year after the spinal injury can reach over $100,000. These expenses do not include cost for:
Home or vehicle modifications necessary to ease a person's mobility
Immense psychological and emotional damages.
The loss of income if a victim can no longer work.
The cost of long-term and in-home care for a spinal cord injury victim

Symptoms of a Spinal Cord Injury
The symptoms of spinal cord injury depend on the type, degree, and level of injury, making them highly variable. For instance, structural problems in the spine (bone, disc, joint) most typically present with pain or change in posture. Pain is generally localized to the neck or back and is precipitated by movement. Examples of structural problems in the spine include disc or facet degeneration, spondylolisthesis/instability, and scoliosis. Alternatively, spinal disorders that affect the spinal cord or nerves typically present with radiating pain, numbness, tingling, or weakness in the upper or lower extremities.
However, some of the common symptoms that suggest a spine injury include:
Loss of movement (paralysis)
Loss of or tingling sensation, including the ability to feel heat, cold, and touch
Loss of bowel or bladder control
Exaggerated muscle movement or spasms
Changes in sexual function, sexual sensitivity, and fertility
Pain or an intense stinging sensation (indicating nerve damage along the spinal cord)
Stiff neck, headache, or back pain
Balance issues
A spinal cord injury can be life-threatening. Emergency symptoms include:
Difficulty breathing
Difficulty balancing or walking
Lack of alertness (semi-consciousness or unconsciousness)
Oddly positioned or twisted neck or back
Shock (pale skin, bluish lips, and fingernails)
Physicians use a standardized neurological exam (developed by the American Spinal Injury Association) to diagnose spine injuries. A physical exam will likely involve the arms and legs to check and see whether the patient still has a sense of touch, muscle strength, and reflexes. X-rays might be taken of the neck and back to determine whether the injury is due to a fracture or a dislocation of the vertebrae. The x-ray images can also reveal tumors, degeneration such as arthritis, blood clots, or masses. An MRI may also be conducted to look at the ligaments, nerves, intervertebral discs, and the spinal cord itself to assess the extent of the damage and how it occurred.
Types of Spinal Cord Injuries
There are many types of spinal cord injuries, but they are all divided into two broad categories: incomplete and complete spinal cord injuries.
Incomplete Spinal Cord Injuries: when the cord is only partially damaged, and depending on the extent, permits the injured person to have some function.
Complete Spinal Cord Injuries: when the spinal cord is totally damaged, and there is complete loss of function. In certain cases, it may be possible to regain some function if medical treatment and therapies are successful. Due to better medical treatment options and expertise in the proper response to potential spinal cord injuries, complete spinal cord injuries are becoming less common.
Some of the most common types of spine injuries are:
Paraplegia
The loss of sensation and mobility in the legs and lower half of the body. Paraplegia is caused by damage to the thoracic region of the spinal cord, which is the mid-section from the base of the neck down to the abdomen. This type of injury increases in severity the higher up in the vertebrae the damage occurs.
Quadriplegia
This is generally the most severe type of spinal injury because it results in paralysis of both the arms and legs. Also referred to as tetraplegia, these spinal cord injuries are caused by damage to the cervical spinal cord, resulting in the inability to move below the injured area. Victims may also suffer difficulty with bowel control, breathing and other critical bodily functions. As with any other injury to the thoracic region, the severity of the symptoms increase depending on how high up the cervical region of the spinal cord the injury lies. Persons with neurologically complete tetraplegia are at high risk for secondary medical complications, including pneumonia, pressure ulcers and deep vein thrombosis.
Triplegia
This type of spinal cord injury results in the loss of mobility and sensation in one arm and both of the legs. It is normally caused by a partial spinal cord injury.
Spinal cord injuries are graded according to the American Spinal Injury Association (ASIA) grading scale, which describes the severity of the injury. The scale is graded with letters:
ASIA A: injury is complete spinal cord injury with no sensory or motor function preserved.
ASIA B: a sensory incomplete injury with complete motor function loss.
ASIA C: a motor incomplete injury, where there is some movement, but less than half the muscle groups are anti-gravity (can lift up against the force of gravity with a full range of motion).
ASIA D: a motor incomplete injury with more than half of the muscle groups are anti-gravity.
ASIA E: normal.
Treatment for spinal cord injuries vary from medication to surgery, and is determined on a case-by-case basis. A physician will consider the type of injury and symptoms before a decision is made on treatments that might be helpful. However, the more severe the injury is, the less likely a recovery will occur. Victims often require physical, occupational and respiratory therapy and modifications to their home and vehicle.
When you need a Las Vegas spinal cord injury attorney, you can contact us for a free initial consultation of your case by clicking here or by calling us at (702) 384-1414 or toll-free at 1 (800) 393-2350. Our personal injury law firm is dedicated to helping injured victims recover compensation for their spine injuries under Nevada law.