Las Vegas and Henderson are among the fastest-growing cities in the country. With increased construction, worksite accidents have become much more common. Hiring a construction accident attorney in Las Vegas to work on your behalf will give you the best chance at compensation for your injury.
Construction sites are among the most dangerous places for workers. Workers are often put in precarious situations in which they are working high above the ground or in some cases underground, with heavy equipment above them. Construction sites are also dangerous due to the use of heavy equipment, power tools, and large construction vehicles. Working construction is also physically demanding, leaving workers more vulnerable to injury as they get tired.  Serious worksite accidents are not unusual; the injuries that result from construction accidents are often severe.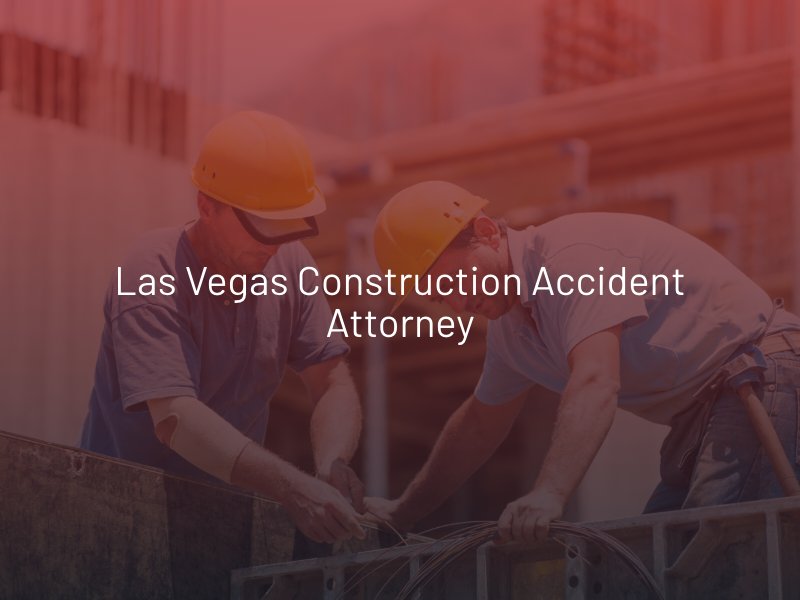 Navigate This Page
Who Is Responsible For Your Construction Site Injury?
Depending on the circumstances surrounding the construction accident, the victim or surviving relatives may have reason to file a personal injury lawsuit against the manufacturer of defective equipment. Claims can potentially be filed against a general contractor who erected a dangerous scaffold or against a subcontractor whose negligent violations of state or OSHA regulations caused an injury.
How We Build a Strong Construction Accident Case
When handling a construction accident injury or wrongful death claim, our lawyers, assisted by scientific and safety experts, perform a thorough investigation in order to build a strong case. Our settlements and verdicts page documents successful verdicts and significant settlements our attorneys have recovered on behalf of clients. We're focused on helping our clients recover the resources necessary to rebuild their lives following a debilitating job site injury.
Common Causes of Construction Accidents
The Federal Occupational Safety & Health Administration (OSHA) coined the following four most common causes of construction accidents, the "fatal four:"
Fall Hazards: falls from heights pose the greatest threat to construction workers. Falls are responsible for 33.5% of all construction accident-related fatalities in 2018. Even at minimal heights, workers must rely on safety reinforcements to ensure their wellbeing, such as scaffolding, adequate railing, and safeguarded machinery and equipment. Companies that fail to provide, routinely inspect, or maintain equipment and machinery knowingly put construction workers at risk.
Struck By or Against an Object: caused approximately 11% of construction fatalities in 2018. Workers are constantly at risk of coming into contact with falling objects, loose materials, equipment, and heavy machinery. Jobsite operators and owners are required to provide workers with safety equipment to prevent them from being hit by or against an object on the job site and to safely transport materials.
Electrocution Accidents: responsible for 8.5% of worker fatalities in 2018, often due to live wires. If a construction site/project is not correctly planned or safety inspections are not performed, workers can come into contact with live wires that should have been temporarily shut off or diverted. A lack of electrical and safety training for workers also contributes to electrocution accidents that result in severe injuries or deaths.
Caught in Between: construction workers can become victims of "caught in between" accidents, which contributed to 5.5% of worker fatalities in 2018. These accidents can occur if workers get wedged between two objects. For instance, semi-trailers and dock walls, truck frames and hydraulic beds or other such equipment.
Other common causes of construction accidents that result in severe injuries or deaths, include ladder or scaffolding accidents, repetitive motion injuries, forklift accidents, missing guards or protections on power tools, tripping hazards, and more.
Recoverable Damages in a Construction Accident
In general, Nevada workers are not able to sue their employers, but in certain circumstances a third party liability lawsuit can be filed in conjunction with a workers' compensation claim. Property owners, contractors, product manufacturers, maintenance companies and/or architects, for example, can be liable if their negligence contributes to a construction accident resulting in an injury. The following damages may be recoverable in a third party liability claim:
Full lost wages and benefits (workers' compensation only covers a portion)
Loss of future wages and future earning potential
Current and future medical expenses related to the injury, including hospital stays, surgeries, doctor's appointments, physical therapy, prescription medications, home modifications for disability, etc.
Pain and suffering
Emotional distress
Loss of enjoyment of life
Punitive damages (in cases involving outrageous conduct)
Nevada does not have laws in place that limit the amount of compensation a worker can recover in a third party liability claim. Unless the defendant is a government agency or employee. In some situations, there may be a cap on punitive damages. A Las Vegas construction accident lawyer can assess your case and advise you of which damages are available to you.
How Much is My Case Worth?
Every construction accident case is different, which means they will vary in worth. Generally, the more serious your injuries and the greater your loss, the more compensation you will receive. When estimating the value of your claim, your attorney will consider the following factors:
Who was at fault (fully or partially). If you are found partly to blame for the accident resulting in your injury, the amount of compensation you receive will be reduced by your percentage of liability. If you are more than 50 percent at fault, you cannot recover compensation under Nevada's modified comparative negligence rule.
The kind and severity of the injuries you suffered.
The care you will require in the future.
How much you earned prior to the incident and were projected to earn throughout your working life, compared to now.
The lifestyle you previously lived, including hobbies and activities of daily living.
It's important to note that your workers' compensation insurance carrier may stake a claim on your recovery for the medical expenses and the portion of lost wages they have paid. However, this doesn't mean it's not worth it to file a third-party lawsuit after a construction injury.
How to Prove a Third Party is Liable for a Construction Accident
In a third party liability claim, you will be responsible for proving the other party was negligent. Whereas, workers' compensation claims do not require evidence of fault. Proving negligence will require demonstrating the following:
Duty of Care
A duty of care must have existed between you and the defendant (responsible party). For example: the driver of a construction vehicle has a duty to operate it carefully; the manufacturer of a product has a duty to ensure a product is safe for use; the owner of a property has a duty to maintain his or her property in a safe condition.
Breach of Duty of Care
The defendant acted in a manner that was unreasonable when compared to what a normal person in the same circumstance would do; therefore, violating their duty of care. For instance: operating a construction vehicle while talking on the phone or intoxicated; designing a defective product; failing to repair a known hazard on a construction site.
Causation
The defendant's violation of their duty of care (negligence) directly resulted in your accident, and would not have occurred otherwise. Even if you can prove negligence, your claim will not be successful if you cannot prove causation.
Damages
The final component is damages, or financial losses. You must have suffered actual damages for there to be a case for compensation, such as medical bills, lost income, pain and suffering, emotional distress, etc.
Third-party liability claims can be complex, so it is useful to have the assistance of a skilled construction accident lawyer who is familiar with these issues. They will work with you to gather the evidence necessary to prove and support your claim. Workers' compensation benefits can still be collected while also pursuing compensation for the full extent of your damages against a third party.
Construction Accident Injury Claims
Due to the extreme danger posed by construction sites in Las Vegas, workers involved in accidents can suffer catastrophic – and even fatal – injuries. In the event that a construction worker falls from scaffolding and suffers a brain injury, full compensation is necessary to provide lifelong care for the injury. Brain injuries are one type of injury that often requires around the clock medical supervision. If a loved one was a victim in a construction accident that led to a brain injury, speak with our Las Vegas brain injury lawyer about your rights in Nevada. If a worker is injured in the workplace, their compensation should cover all their damages.
Worker's Compensation
Workers' compensation can cover lost wages and medical expenses, but it's rarely sufficient for serious injuries such as amputation, spine, back, neck or brain injuries. To learn more about workers' compensation, speak with a qualified workers' compensation lawyer in Las Vegas.
Workplace Accident Injury Attorney
In the event of a fatal accident, the relatives of the deceased deserve compensation for their loss in addition to the medical expenses and lost wages. Our construction accident lawyers will fight for the compensation of construction workers and their families. When you contact our workplace accident attorneys to discuss a construction or worksite injury, they will investigate all possible sources of compensation such as equipment manufacturers, building designers or suppliers and they will fight for you.
If you have been involved in a construction accident, our experienced construction accident lawyers in Las Vegas can help you navigate through the legal process and get what you deserve. At Harris & Harris Injury Lawyers we will fight vigorously to get the settlement you deserve.
Call Harris & Harris Lawyers in Las Vegas: (702) 384-1414 or toll-free 1 (800) 393-2350. You can also fill out our online contact form.