To keep car dealers from selling defective vehicles and protect consumers, Nevada established lemon laws.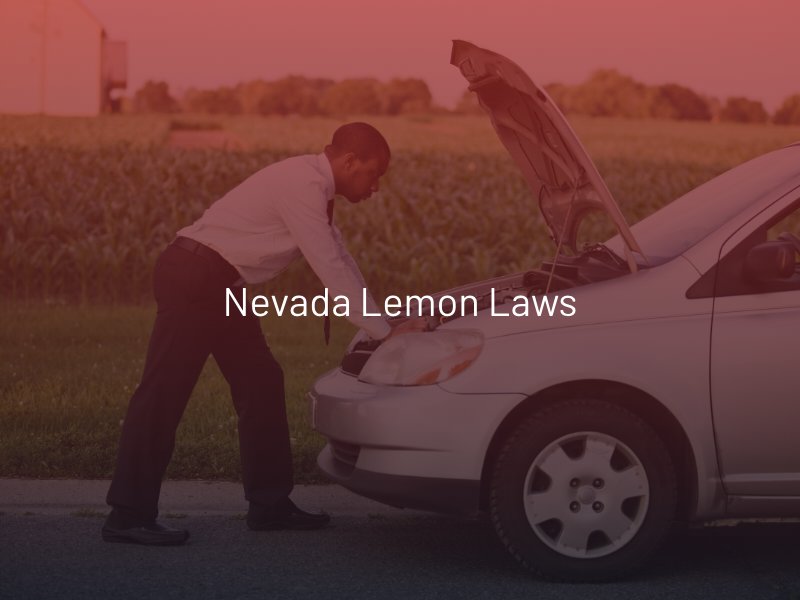 What are Lemon Laws?
Nevada lemon laws (NRS 597.600-597.688) offer a remedy for purchasers of new vehicles to hold car manufacturers responsible if they are sold a vehicle that fails to meet performance and quality standards and needs constant repairs. After a certain number of repair attempts, consumers have the right to either a refund or a replacement vehicle.
When is a Vehicle Considered a Lemon?
Under Nevada law, a vehicle is a lemon if the following conditions apply:
Non-conformity to an express warranty.
The deformity must significantly affect the market value of the vehicle.
The consumer reports the defect within one year of the original delivery date to the first buyer or before the expiration of the express warranty.
The manufacturer cannot repair the defect within four tries or within 30 total days of the vehicle being out of service for repairs.
If your vehicle is a lemon, the manufacturer must issue you a refund or replace your vehicle. A refund will include the purchase price along with any taxes and fees, but the total amount can be slightly reduced for the amount of time you had and drove the vehicle. If a replacement is offered, it must be a comparable model with similar features.
How to Pursue a Lemon Law Case
To initiate a case under Nevada's lemon laws, first, notify the vehicle dealer in writing of the defects. Before filing a lawsuit in court, many car manufacturers have a system to handle lemon law complaints, which you will first have to go through. Bypassing this program may result in your court case being dismissed. If you notified the manufacturer within the express warranty or one-year time period following the purchase of the vehicle, and they do not comply with your requests, then you can pursue the claim further.
The deadline for filing a lemon law lawsuit in Nevada, known as the statute of limitations, is 18 months from the date of the original delivery of the vehicle to the buyer. If you win against the manufacturer, they will be responsible for paying your damages as well as attorneys' fees.
Are Used Cars Covered Under Nevada Lemon Laws?
Although there are several exceptions, Nevada lemon laws normally only apply to new, recently purchased vehicles. However, if you bought a used vehicle that still has an active warranty, you may be able to pursue a lemon law claim. State laws are always shifting, so be sure to consult an attorney if you're unsure.
Nevada Lemon Laws: Appliances
Lemon laws are most commonly associated with motor vehicles, but they may also apply to other consumer products (e.g., home appliances, computers, etc.). State lemon laws and federal law provide protections to consumers who buy or lease consumer goods that involve manufacturer warranties. The consumer must present the defective product to the manufacturer or dealer, who must diagnose the problem and quickly repair it.
If you or a loved one was injured in a car accident or by a defective product, contact a Las Vegas product liability attorney. We can help recover the compensation you deserve.