To operate a motorcycle in Nevada, riders are required by law to have a valid motorcycle license (Class M). Since riding a motorcycle safely takes special skills, some steps must be taken to obtain one.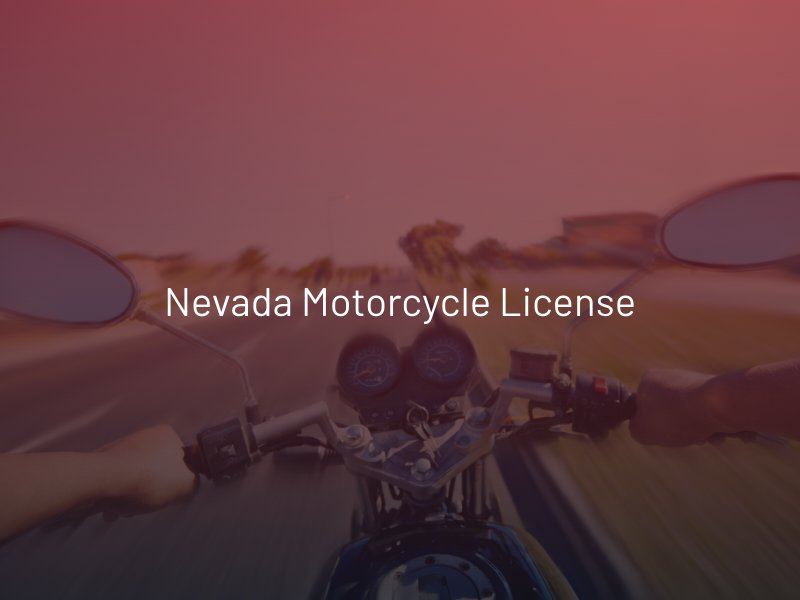 Requirements for Getting a Motorcycle License in Nevada
To get a Class M license in Nevada, you must already have a Nevada-issued Class C (standard vehicle) license or higher. In addition, applicants must pass a vision test and either complete an approved course or take a written and skills test. Applicants under the age of 18 will also need to:
Have had a Motorcycle Instruction Permit for at least six months
Have a minimum of 50 hours of logged supervised riding experience
Pass a riding safety course or have an additional 50 hours of logged supervised riding
Taking a Course
If you complete a course certified by the Motorcycle Safety Foundation (MSF), you can take your Certificate of Completion (MSF card) to the DMV along with your Class C license to have a new license issued that lists your Class C and Class M licenses. You do not have to take the written and skills tests.
Taking the Tests
The other option is to take the written and skills tests at a DMV office. If you are over the age of 18, it is your choice whether to obtain an instruction permit first. The written test must be passed first before moving on to the skills test. If you fail the skills test two or more times, you will have to take a course to obtain a Class M license.
Nevada Motorcycle License FAQs
How long does it take to get a motorcycle license in Nevada?
It depends on your age and the method you choose for obtaining your Class M license. For example, new rider courses are typically completed over the course of three consecutive days, whereas if you pass your written and skills tests on the same day, it may only take a few hours. However, riders under the age of 18 must have their permit for at least six months before getting a license.
How old do I have to be to get a motorcycle license in Nevada?
The minimum age requirement to get a motorcycle license in Nevada is 16 years old. However, you can obtain an instruction permit at 15 ½ years old.
How do I find an approved motorcycle course?
MSF-approved courses can be found online through their website.
How much does a beginner's rider course cost?
Motorcycle courses typically range from $125 to $150 or more.
Are there any prerequisites before taking a motorcycle course?
You must be able to ride a bicycle, and some training providers require you to take a three-hour online eCourse first.
How much does it cost to take the written and skills tests at the DMV?
There is a $25 testing fee in addition to the licensing fee.
I just want to ride a moped, do I need a motorcycle license?
If your vehicle qualifies as a moped under Nevada Revised Statute (NRS) 486.038, you do not need a motorcycle license, but a class C license is required to ride on public streets.
What do I do if I was injured while riding my motorcycle?
First, seek prompt medical attention. Some injuries may not be obvious and may have symptoms in the hours and days following the accident. Next, contact an experienced motorcycle accident attorney to explore your options for financial compensation.