Truck drivers in Nevada are bound by numerous state and federal laws that dictate the ways in which they are to operate their large and potentially dangerous vehicles. These regulations seek to ensure safety for all motorists by controlling the conduct of both truckers and truck companies.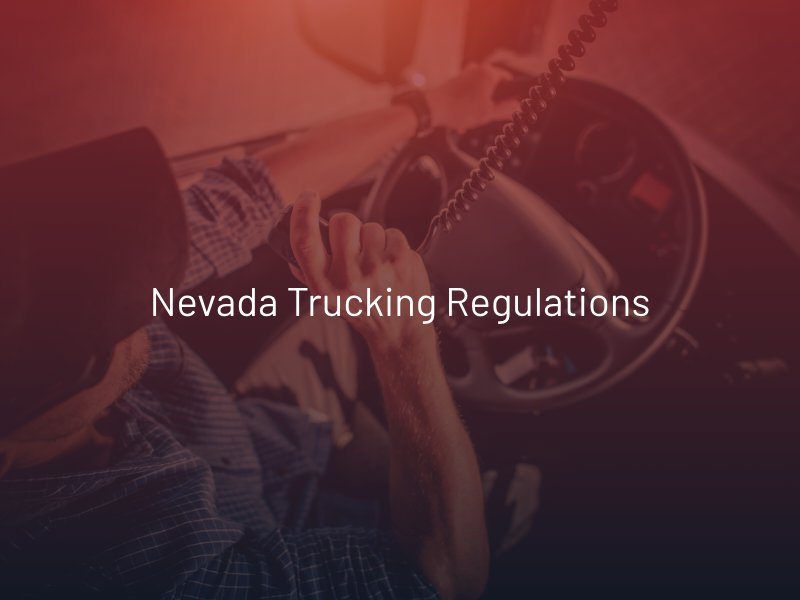 Nevada Trucking Laws
For truck drivers that operate intrastate or within the state's boundaries, the Nevada Department of Transportation's laws apply. The state's key regulations are: 
Trucks cannot exceed 14 feet in height, 8.5 feet in width, and 70 feet in length (except with special permits).

The following weight limits apply: 20,000 pounds for single-axle vehicles, 34,000 pounds for tandem axle vehicles, and 42,000 pounds for triple-axle vehicles.

Trucks cannot have a gross weight that exceeds 80,000 pounds unless the driver has a special permit.

A truck driver must have a Commercial Driver's License (CDL) to operate a commercial vehicle. This means a driver must be at least 21 years old to get a CDL for interstate driving and at least 25 to drive a truck that is longer than 70 feet.

Licensed truck drivers have to agree to blood alcohol testing if they are pulled over by law enforcement under the suspicion of driving under the influence.

Drivers cannot operate a commercial truck with a blood alcohol concentration (BAC) of 0.04 percent or greater, half the 0.08 percent limit that applies to other motorists.

If a truck driver has any detectable amount of alcohol in their system while driving, they will be restricted from driving for 24 hours.
Federal Trucking Laws
The Federal Motor Carrier Safety Administration (FMCA) has established laws for trucking companies and large truck drivers to promote safety and reduce the risk of accidents. The following are some of the most critical regulations: 
A driver may only operate a truck for 11 hours after a 10-hour break.

After taking a 10-hour break, a truck driver may not drive more than 14 consecutive hours.

A truck driver can only work 60 in 7 consecutive days or 70 hours in an 8-day period.

A driver can restart the seven to nine-day work week after having a minimum of 34 hours off.

Truck drivers cannot drive more than 8 hours after a previous rest break of at least 30 minutes or being off-duty. 

Trucks are only allowed on the road after being deemed safe by an annual FMCSA inspection.

Routine inspections and repairs must be performed to maintain the integrity of a truck.

Trucking companies must maintain a high amount of insurance coverage to match their higher level of financial responsibility in the event of an accident.

Truck drivers must be at least 21 years of age, have a valid commercial driver's license, and be proficient in English.

Semi-trucks generally must travel at 55 mph or less, depending on the roadway conditions. That is 10 miles per hour below what most highways in the U.S. have posted for noncommercial vehicles.
Truck drivers and trucking companies who fail to follow both state and federal regulations can be liable for any property damage or injuries that result from their negligence. 
Speak to a Truck Accident Lawyer
To learn more about Nevada or Federal trucking regulations or if you have been seriously injured in a truck accident, contact our Las Vegas truck accident lawyer. At Harris & Harris Injury Lawyers, we  can discuss your options and how state and federal laws apply to your case. We offer free consultations; call (702) 384-1414 or message us online today.