Mopeds are a fun way to get around in Nevada, but there are laws that govern their use. Those who already own a moped or are planning on purchasing one should be aware of the following.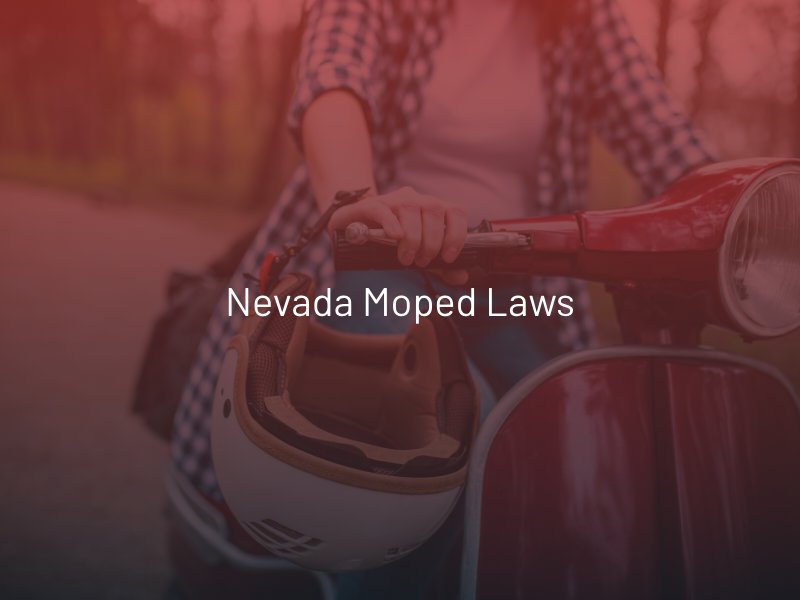 How Nevada Defines a Moped
The definition of a moped, according to Nevada law (NRS 482.069), is a scooter that looks and handles like a bicycle and is propelled by a small engine. 
The engine produces not more than 2 gross brake horsepower, has a displacement of not more than 50 cubic centimeters, and produces not more than 1500 watts final output. 

Designed to travel on not more than three wheels in contact with the ground but is not a tractor; and

Has a maximum speed of no more than 30 miles per hour on a flat surface with not more than 1 percent grade in any direction when the motor is engaged.
If your moped meets these criteria, you are required to follow Nevada's specific moped laws. 
Do You Have to Register a Moped in Nevada?
Yes, since January 1, 2017, the state of Nevada requires you to register your moped. Without proof of registration, you are not legally permitted to ride on public highways. Unlike motor vehicles and motorcycles, you must only register a moped once, and the fee is $33. Mopeds also require an inspection to make sure they meet the definition of a moped. This inspection can be done at a DMV office or the Sheriff's office if your county does not have a DMV facility. 
Drivers License Requirements for Mopeds
To operate a moped on Nevada roadways, you do not need a motorcycle license, but you need a driver's license (any class). This means teens without a license, and those with only an instruction permit cannot legally ride a moped. Therefore, the minimum age to operate a moped is 15, provided the rider has obtained a driving license. 
Nevada's Insurance Requirements for Mopeds
There are currently no laws in place in Nevada that require moped riders to purchase liability insurance. 
Where Can Mopeds be Driven in Nevada?
Moped riders must follow regular traffic laws that apply to any other motor vehicle on public highways but are also required by law to remain in the far right-hand lane. The only exceptions are if it is a single-lane highway if they are turning left, if riding in the right-hand lane is not safe, or when directed by law enforcement. 
Equipment Requirements for Mopeds in Nevada
Moped drivers are required to have:
Helmets
As of October 1, 2019, moped riders are required by law to wear a helmet. Moped helmets must: 
Weigh at least three pounds

Have a one or more inch thick inner liner of polystyrene foam 

Have strong chin straps with rivets

Not have external components that extend further out than two-tenths of an inch from the surface

Have a label with model type, year, materials used, and manufacturer's name

Be imprinted with DOT on the back
Eye Protection
Drivers must wear goggles, glasses, or a face shield if their moped does not have a transparent windscreen.
Inspection Requirements
To pass a state-required safety inspection, mopeds in Nevada must have: 
Handlebars

: No higher than the rider's shoulders when the rider is seated. 

Fenders

: Over both wheel wells to stop debris from being thrown during travel.

Headlights

: 

At least one, and no more than two working headlights. 

The center point of the headlights must not be mounted higher than 54 inches off the ground (when rider is seated).

Center point of the headlights must not be mounted lower than 24 inches off the ground (when rider is seated).
Tail Lights

: At least one working tail light on the rear of the moped, visible from 500 feet away. 

Brakes and Brake Lights

: Functioning brakes and brake lights mounted on the rear of the moped that shine a red, amber, or yellow light when the brakes are applied. The lights must also be visible from 300 feet away in daylight. 

Reflectors

: At least one fitted on the rear of the moped at a height between 20 to 60 inches off the ground when there is no rider on the moped. Reflectors must be visible from 300 feet away when headlights shine on them. 

Mirrors

: Two rear-view mirrors fitted on each handlebar that can reflect 200 feet of highway. 

 

Horn

: Functioning horn audible from at least 200 feet away. 

Muffler

: Mopeds must have a muffler as outlined by Nevada law. Muffler cutouts, bypasses, and altering devices are prohibited. 

Tires

: Must display a US DOT number to prove they meet the minimum safety regulations. 
If you or someone you love has been involved in a moped accident, contact Harris & Harris Injury Lawyers. We can discuss your legal options in a free consultation, message us online or call (702) 384-1414 today. Our Las Vegas accident lawyers can help recover the compensation you deserve.