Liability for trampoline injuries can depend on a number of factors, but generally, trampoline owners or manufacturers can be held responsible. Homeowners have a duty to ensure their property is safe for visitors, including children who may be attracted to a trampoline.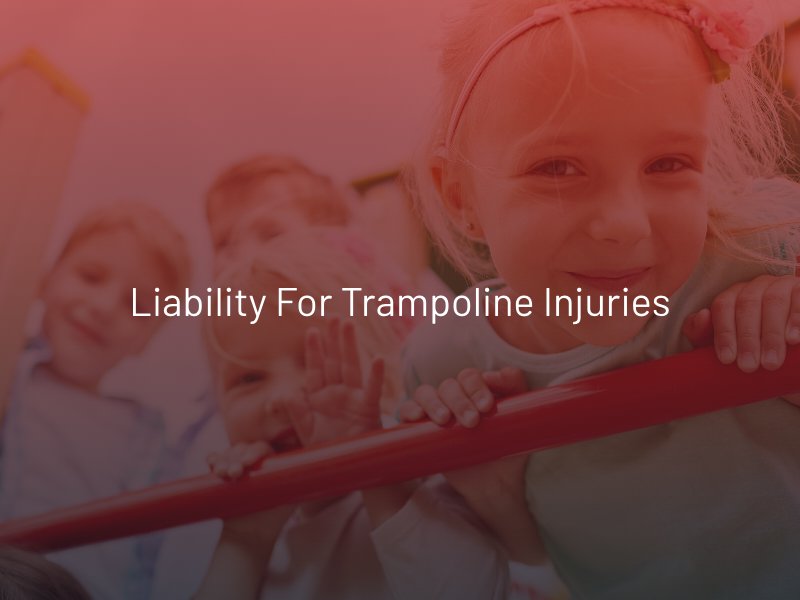 When Homeowners are Liable for Trampoline Injuries
Here are some common examples of when homeowner negligence can make them liable for a trampoline injury:
Failing to properly maintain the trampoline: This includes failing to repair or replace damaged parts, secure the trampoline to the ground, or keep it clean and free of debris.
Allowing children to use the trampoline without proper supervision: If a child is injured while using the trampoline without adult supervision, the homeowner may be liable for failing to supervise them properly.
Failing to warn visitors of the risks: If a homeowner fails to post warning signs or inform visitors of the risks associated with trampoline use.
Allowing too many people to use the trampoline at once: If a homeowner allows too many people to use the trampoline at once, they may be liable if someone is injured due to overcrowding.
Even if a homeowner does take steps to ensure that their trampoline is safe, they can still be held liable for injuries if they were negligent in some way.
Trampoline Manufacturer Liability
A trampoline manufacturer can be held liable for an injury if the trampoline was defective in some way and that defect caused or contributed to the injury. The following are some examples of defects that may make a trampoline manufacturer liable:
Design defect: If the trampoline was designed in a way that makes it inherently dangerous or unsafe.
Manufacturing defect: If a defect occurred during the manufacturing process, that makes the trampoline unsafe.
Failure to warn: If the manufacturer fails to provide adequate warnings or instructions for using the trampoline safely.
If you or your child has been injured on a trampoline, consult a lawyer as soon as possible so they can help you determine who may be liable.
What To Do After a Trampoline Injury
To file a claim against a homeowner or another liable party for a trampoline injury, you will need to follow these general steps:
Gather evidence: Collect any evidence that can help support your claim, such as photos or videos of the trampoline and the area around it, your or your child's injuries, witness statements and contact information, and medical records.
Speak to a personal injury lawyer: A Las Vegas personal injury attorney can help you understand your legal rights and options and guide you through the process of filing a claim.
File a claim: In many cases, the homeowner's insurance policy will cover injuries that occur on their property. Alternatively, for example, if a manufacturer is liable, an attorney can help you pursue a product liability claim.
Provide evidence: Your attorney will provide any evidence you and they have collected to the insurance company, as well as a demand letter with the amount of compensation you require to resolve the claim.
Negotiate a settlement: The insurance company may offer a settlement, and your attorney can help you negotiate fair compensation.
If a settlement cannot be reached, your lawyer may advise you to file a lawsuit.