If your child gets injured due to a daycare's negligence, you have legal options for holding them accountable. Even if you signed a waiver of liability, which most daycare providers require, they are typically not enforceable in court.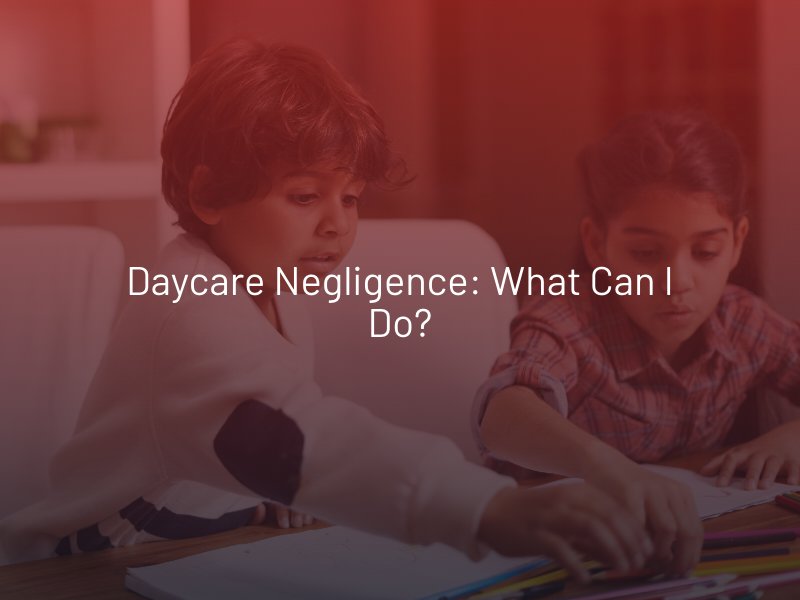 What To Do Immediately After a Daycare Injury
Once you are notified that your child was injured while at daycare, it is critical to seek medical care if they have not already been transported to the hospital. Even if the injury seems minor, it is worth having them checked out to be sure. Additionally, there will be medical records linking their injuries to the incident at the daycare. Here is what to do next:
Notify the Police
File a police report as soon as you can. Depending on your situation, you may have chosen to call 911 while at the daycare, which means an officer would have arrived on the scene to create a report.
Document the Scene
If you can, take photos or videos of what caused your child's injury, the surrounding area, and your child's injury. Any documentation you can gather at the scene where the injury occurred can be critical to your claim. If there were any witnesses, ask for their contact information and if they will make a recorded statement of what they saw.
File a Formal Complaint
Use Nevada's online reporting form to file a formal complaint about the daycare facility. You can remain anonymous if you choose, but provide specific details of the negligence you believe took place and how your child was injured. The completed form will be sent to the appropriate Child Care Licensing Staff. They will then investigate, and if they find grounds for your claim, they will schedule an administrative hearing.
Speak to an Attorney
Schedule a free consultation with a Las Vegas child injury attorney. They can help you with every aspect of your claim, including investigating the incident to determine who is liable, whether the daycare can be held responsible, collecting evidence of negligence, and pursuing a claim on your and your child's behalf.
Liability for Daycare Negligence
The owners of the daycare facility and the staff providing care can be liable for your child's daycare injury if it was caused by their negligence. The key to your success will be evidence of their carelessness and failure to prevent a foreseeable injury. In addition, the court will consider whether the employees or management provided an acceptable level of care.
For instance, suppose your child was injured on a broken slide. In that case, you will have to prove the daycare owner and/or employee was aware of the danger or should have been aware and did nothing to repair or warn of the hazard. On the other hand, in cases where a child was intentionally harmed, holding the daycare responsible will require proof of the abuse or neglect.
Speak to an Attorney Today
When an injury occurs as a result of daycare negligence, we understand the gravity of the situation and that you need to ensure that the wrongful party is held accountable. Contact Harris & Harris Injury Lawyers today. We can arrange a free consultation with our Las Vegas injury lawyers to discuss your legal options.