Being injured in a preventable accident can be a traumatic experience. Someone else disregarded your safety, and you're the one paying the price. Harris & Harris Injury Lawyers can fight for you and obtain the justice you deserve. Contact us today for a free consultation with a highly skilled Salt Lake City personal injury lawyer.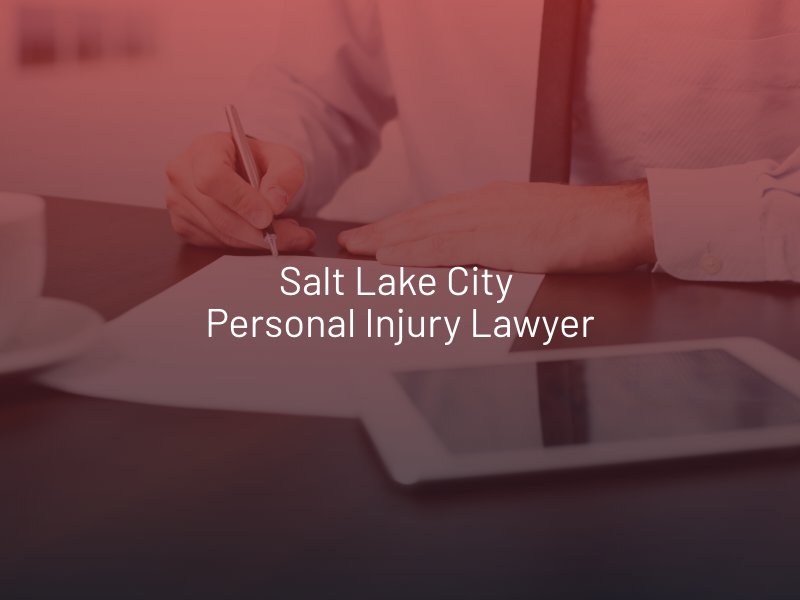 What is a Personal Injury Lawsuit?
A personal injury lawsuit is a legal action against a person or business. When you file a personal injury lawsuit, you are seeking to have the court hold a person or company responsible for an injury you have suffered. If your personal injury lawsuit is successful, you will be entitled to financial compensation for tangible and intangible losses you've suffered. If you've been injured in Salt Lake City and would like to file a personal injury lawsuit, contact a Salt Lake City personal injury attorney as soon as possible.
How Long Will My Personal Injury Claim Take?
If you are considering or pursuing a personal injury claim in Salt Lake City, a common concern is how long it will take to resolve. Unfortunately, there is no exact answer because each case is different. However, the following is a general timeline of each step and how long they typically take.
Step 1: Investigation of Claim
Average Length of Time: weeks to months
After hiring a trusted personal injury lawyer, your legal team will begin
investigating your claim. That will involve obtaining relevant documents
such as medical records, bills, the police report, and collecting additional
evidence to build your case. They will also consult with expert witnesses if
necessary, such as medical experts or accident reconstruction experts. The
amount of time this process takes will depend on your unique situation and
type of case.
Step 2: Demand Letter and Negotiations
Average Length of Time: weeks to months
Your Salt Lake City injury attorney will draft a demand letter that details the facts of the accident
and asks for a specific amount of money by a set date to resolve your claim.
However, it will be in your best interests to hold off on sending a demand
letter until you have fully recovered or reached the point of "maximum
medical improvement" (MMI). Waiting will give both you and your attorney
the most accurate estimate of your case's worth. Your attorney will then
negotiate, and if both sides reach an agreement, the case will settle.
Step 3: Filing a Lawsuit
Average Length of Time: a year or longer to get to trial
It will typically take one to two years to get to trial in Nevada. Your lawsuit
must be filed within the two-year statute of limitations, otherwise the court
will reject your case.
Step 4: Discovery
Average Length of Time: six months to a year depending on the case's
complexity
Each party will review the other's evidence and legal claims, send document
requests to each other, and take depositions.
Step 5: Mediation and Negotiation
Average Length of Time: weeks to months
A second attempt to settle the case will typically take place towards the end of
discovery. Over 95 percent of civil cases settle before making it to trial.
Step 6: Trial
Average Length of Time: days to weeks
If your case does not settle, it will proceed to trial. The trial itself may only
take a day but can last as long as a week, or sometimes even longer. There are
often delays, and your trial date can be pushed back if there is a scheduling
conflict with the judge.
Step 7: Collecting a Judgment, Post-Trial Motions, and Appeals
Average Length of Time: months to years
If you receive a favorable jury verdict, unfortunately, it can still take months or
years before you receive your award. The defendant will most likely appeal the
court's decision, which is a long process.
How Can a Salt Lake City Personal Injury Lawyer Help?
After a serious injury, hiring a personal injury attorney will give you your best chance at receiving the fair compensation you deserve. Insurance claims adjusters can seem kind, but unfortunately, it is their job to limit payment on your claim. Sometimes, they may even deny responsibility to avoid paying you at all. A personal injury lawyer has experience dealing with insurance companies and can help protect you in these situations. Your lawyer will have investigated your claim and created an estimate of your case's value that they will use to negotiate fair compensation. Every exchange with the insurer will be handled for you, and if necessary, you will have a legal advocate to fight for your rights in court
How Much Is My Personal Injury Claim Worth?
There is no exact "formula" to determine the value of a personal injury claim since each case is unique. However, the value of your case can be determined with the assistance of a skilled attorney. They will consider the following factors in their calculation:
The severity of your injury.
Your age, occupation, past medical history, etc.
The extent to which your injury has impacted your future.
The amount of expenses incurred as a result of the injury, such as hospital and medical bills, rehabilitation costs, prescription drug costs, lost wages, and lost earning capacity.
The projected costs of future healthcare.
The physical and emotional pain and suffering you have and are experiencing.
The percentage you are found to be at fault.
The strength of evidence against the defendant, which can lead to a higher settlement value.
Insurance policy limits for both you and the liable party.
A successful personal injury claim requires careful documentation. For example, injured victims should always keep a diary or notes about their daily pain, symptoms, and limitations. If you have been injured, discuss the facts of your case with an attorney who can assess how much money you may be owed and explain your legal options.
Contact Us Today
Our Salt Lake City personal injury lawyer is highly qualified and cares about our injured clients. We will fight to ensure you recover the compensation you deserve. If you or a loved one has been harmed in a personal injury accident, call (702) 384-1414 or contact us online and schedule a free consultation today.