After a serious car accident, you need an experienced attorney on your side to obtain the compensation you deserve. Contact Harris & Harris Injury Lawyers today to speak to an experienced Salt Lake City car accident lawyer in a free consultation.
Drivers who are safe and follow the rules of the road are still at risk of being involved in an accident in Salt Lake City. While the majority of car accidents are minor, far too many result in severe injuries and damage.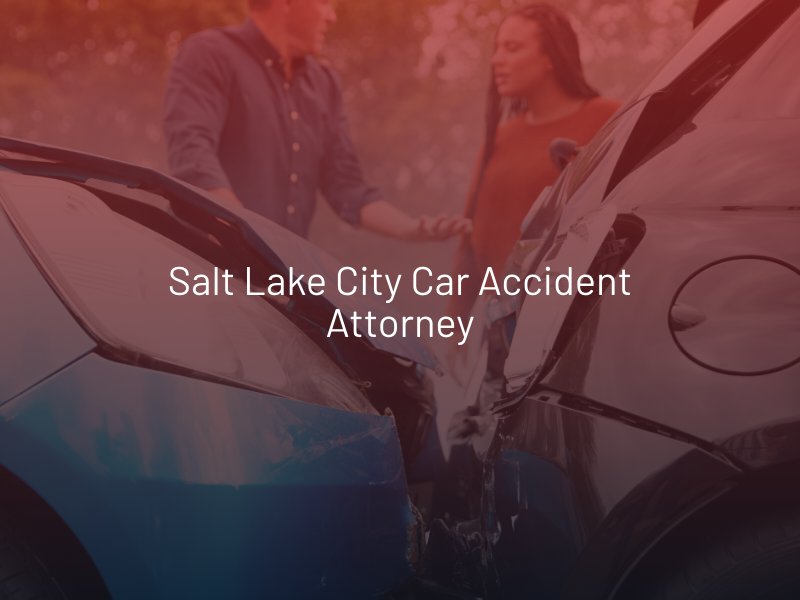 How Can a Car Accident Lawyer in Salt Lake City Help?
Car accident claims involving serious injuries are often very complex. If you choose to handle the claim process alone, there is a risk of missing critical steps that can protect your legal rights, or you may fail to adhere to the specific procedure and rules of Utah law.
The advantage of hiring an attorney from Harris & Harris Injury Lawyers immediately after an accident is their knowledge and resources to help you recover the maximum compensation you need. They will
Help you get medical treatment, your car repaired or money for a replacement, and a rental vehicle.
Gather the necessary evidence to prove fault and the cause of your injuries.
Consult with medical experts and obtain your medical records.
Collect statements from drivers and other witnesses.
Determine the value of your claim.
You will be shielded and protected from the harassment and underhanded tactics of the at-fault party's insurance company. Most importantly, an experienced car accident lawyer will provide you with higher settlement offers and help you determine whether a settlement is fair and reasonable.
What Damages Can I Recover?
When you are injured in an accident caused by a negligent driver, you are entitled to collect compensation for your losses. The types of damages you may be able to recover with the help of a Salt Lake City personal injury lawyer include:
Medical Expenses: Emergency care, surgery, hospitalizations, rehabilitation, long-term care, in-home care, prescription medications, and any other costs related to medical care and future treatment.
Lost Income: Any wages you have lost from being unable to work due to your injuries.
Diminished Earning Capacity: Also known as lost earning potential, is compensation for the difference in the amount you can make now and what you could have earned had you not been injured.
Pain and Suffering: Compensation for the physical pain, discomfort, or loss of motor control you have or must endure. In some instances, you may obtain compensation for the loss of enjoyment of life if you have chronic pain or cannot enjoy the lifestyle you were accustomed to.
Emotional Distress: If you have experienced any anxiety, depression, and other psychological conditions brought on by the accident. Intensive counseling and significant lifestyle changes are often required to recover this type of compensation.
Punitive Damages: only awarded in cases involving evidence of malice, oppression, or fraud.
The goal of obtaining damages in a car accident claim is to provide victims with sufficient compensation to recover from their injuries and fully reimburse their other losses and potential future losses related to the crash.
Common Injuries in Car Accident Cases
Some of the most common types of car accident injuries include:
Whiplash
One of the most prominent injuries from car accidents, which is a form of soft tissue damage that occurs when a person's neck is 'whipped' violently back and forth. The pain can be excruciating, and these injuries often take a considerable amount of time to heal.
Head Injuries (TBIs)
In severe cases of concussions or traumatic brain injuries (TBIs), victims can suffer permanent cognitive or physical impairment.
Spinal Cord Injuries (SCI)
Even a tiny amount of damage to the spinal cord can have catastrophic repercussions. An SCI can cause a loss of range of motion, paralysis, permanent cognitive impairment, and in some cases, a loss of control over basic bodily functions.
Broken Bones
These injuries can be particularly dangerous if a bone chip or fragment moves through the bloodstream, as they can come in contact with vital organs, such as the heart or lungs.
Back Injuries
Many different types of back injuries can occur, such as herniated discs or vertebral fractures. A severe back injury may take months to years to recover from or may never completely heal.
Internal Injuries
Internal injuries are not easily detected and can be life-threatening if a victim doesn't seek medical attention immediately after a crash.
Disfigurement
Road rash or lacerations from a car accident can permanently scar a victim or leave them disfigured.
Emotional Distress
Not all car accident injuries are physical in nature. Victims may face psychological conditions, such as post-traumatic stress disorder (PTSD), depression, anxiety, or insomnia.
Each of these types of injuries can have a life-altering effect on your professional and personal life. In the most tragic cases, some of these injuries can be fatal. Since it can take up to 72 hours for delayed symptoms to fully materialize, it is best to seek medical care as soon as possible.
Types of Car Accidents in Salt Lake City
Some of the leading causes of car accidents in Salt Lake City are:
Distracted Driving: Being distracted while driving can cause a catastrophic accident, even if it's only for a split second. Common distractions include the use of cell phones, eating, daydreaming, children in the backseat, or using GPS.
Impaired Driving: Driving under the influence of alcohol or drugs dramatically impairs a driver's ability to operate a vehicle safely.
Drowsy Driving: Fatigued drivers are three times more likely to be involved in an accident, according to the National Safety Council.
Speeding: The faster a vehicle travels, the longer it takes to stop to avoid an accident.
Aggressive Driving: Driving behaviors, such as speeding, erratic lane changes, failing to yield the right-of-way, and failing to obey traffic signs and signals, can all easily contribute to an accident.
Road Conditions: Construction zones, inclement weather, loose gravel, etc., can pose a serious threat to drivers.
How Much Is My Claim Worth?
The amount of compensation you are entitled to depends on various factors unique to your claim, such as the following:
The strength of evidence against the other driver.
Whether there were aggravating factors present, such as drunk or otherwise impaired driving.
The severity of your injuries.
The length of your recovery.
How your pain and suffering impacts all aspects of your life.
How much income you will lose from being unable to work.
How much money you will lose in the future due to your injury.
Your age.
Whether you will need ongoing medical care and adaptive equipment.
An experienced Salt Lake City car accident attorney will be able to evaluate your particular claim to give you an estimate of its worth. If you were partially to blame for your car accident, you might still be able to collect compensation, but it can be reduced. Utah courts follow the rule of comparative negligence, which means each party is assigned a percentage of fault, and as long as you are less than 50 percent to blame, you can seek compensation for damages.
Contact Our Salt Lake City Auto Accident Attorneys Today
Discuss your legal options with our Salt Lake City car accident lawyer in a free consultation today. Message us online or call Harris & Harris Injury Lawyers at (702) 384-1414.