After a serious injury caused by someone else's negligence, a skilled lawyer can help you regain control of your life. For help with your personal injury claim, you can trust Harris & Harris Injury Lawyers. Our Carson City personal injury lawyers will fight for your best interests and help you recover the compensation you are owed. Reach us online or call (702) 384-1414 today for your free consultation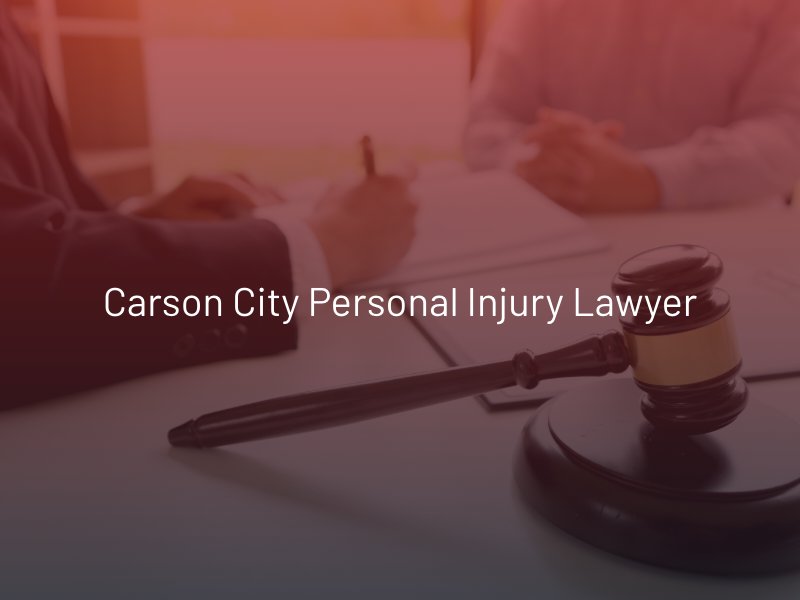 Why Hire a Carson City Personal Injury Attorney?
The state of Nevada recognizes your right to pursue compensation by filing a personal injury lawsuit when you are injured due to someone else's negligence. Nonetheless, insurance companies routinely take advantage of injured victims by either offering a quick settlement that is only a fraction of their actual claim's worth or attempting to avoid payment altogether. Without the help of a Carson City personal injury attorney on your case, the chances of this happening increase dramatically.
If an insurer can provide evidence of or convince a jury that you are more than 50 percent responsible for your injury, then you may be barred from obtaining any compensation at all. If they cannot prove you are 51 percent or more to blame, they will aim for the highest possible percentage. This is because of Nevada's comparative negligence rule, which allows the compensation you are awarded to be reduced by your percentage of fault. Hiring a personal injury lawyer in Carson City will protect you throughout the entire claims process and ensure you recover the compensation you are warranted.
Recoverable Damages in a Personal Injury Case
The following damages are recoverable in a Carson City personal injury case:
Economic (Actual) Damages
Economic damages are for an amount that is necessary to replace the losses you suffered, no greater. These are losses where you must prove how much money you've lost. Some examples include:
Medical bills: emergency visits, hospital stays, physical therapy, outpatient procedures, prescription medications, etc.
In-home medical care
Nursing home or rehabilitation costs
Medical treatment
Property repair
Property replacement
Lost wages from missed work
Diminished earning capacity
Non-Economic (General) Damages
Non-economic damages do not reflect a specific dollar amount and are more complicated to prove since they are subjective losses. For instance:
Pain and suffering
Emotional distress
Loss of enjoyment of life
Loss of opportunity
Loss of consortium
Physical impairment (e.g., disability, loss of a limb)
Disfigurement
Unjust hardship
Punitive Damages
Punitive damages are only awarded in cases involving particularly reckless or egregious behavior. They are intended to punish the defendant and deter others from similar acts.
How Much Does an Injury Attorney in Carson City Charge?
Most Carson City injury lawyers accept cases on a contingency fee basis. This type of agreement means your attorney advances any costs in preparing and litigating your claim. You are only responsible for those costs if there is a settlement or favorable verdict. Once you recover compensation, your lawyer will generally take 25 to 40 percent of your award as their legal fee. There is no risk in hiring an attorney since you will not owe anything if you do not win.
Like all contracts, the terms can typically be negotiated. Some personal injury lawyers will reduce their contingency fee if there is a quick settlement and raise it if the case goes to trial. Others may work on a sliding scale fee. Be sure to discuss this topic with your lawyer, so you understand the exact terms of your agreement.
Types of Personal Injury Cases
Our Carson City team handles a wide range of personal injury claims, including but not limited to:
Car Accidents
No one expects to be involved in an auto accident, and it's a stressful experience. If you were injured in a crash, we are here to protect your rights and help you obtain the total and fair compensation you deserve.
Product Liability / Defective Products
Whenever a defective product of any type hurts you, product liability laws can apply to provide you with compensation.
Construction Accidents
Workers injured while at work have a right to file a workers' compensation claim, but these benefits rarely fully cover the cost of an injury. If a third party is responsible for your construction accident, other than your employer, you may be able to pursue further compensation by filing a third-party claim.
Dog Bite Injury
Nearly 5 million people are bitten by dogs each year. We can support and help you navigate a legal claim if a dog has attacked you or someone you love.
Premises Liability
Have you or a loved one been hurt by dangerous conditions on someone else's property? If so, then you may be able to pursue a premises liability claim.
Nursing Home Abuse
If a nursing home staff or management breaks the trust you've placed in them to care for a family member and instead subjects them to nursing home abuse or neglect, you have the right to take immediate legal action to protect your loved one and others.
Wrongful Death
When someone else's negligence or misconduct caused a family member's death, then you have a right to seek justice by holding the negligent party accountable in a wrongful death lawsuit.
These are only a few of the many types of cases we handle. Please do not hesitate to contact us after an injury, even if your accident is not listed here.
How Long Do I Have to File My Lawsuit?
Nevada has a statute of limitations in place limiting the amount of time you have to file a personal injury lawsuit, which is two years. This means that any personal injury victim who wishes to file a lawsuit to hold responsible parties accountable for their injuries must do so within two years from the date the incident occurred. A Carson City court will dismiss any claims that are not filed within that time frame.
Contact Our Carson City Injury Lawyers Today
If the negligent or reckless actions of another party have left you or a family member with serious injuries, contact Harris & Harris Injury Lawyers. We have a team of highly effective personal injury lawyers who will pursue maximum compensation on your behalf. We also offer free consultations; call (702) 384-1414 or contact us online to schedule one today.