Speed and Make and Model
Do drivers involved in speed-related crashes drive certain cars? It turns out, there is a good chance they don't drive cars at all. Of the 15 vehicles most often involved in these types of crashes, five were motorcycles and were pickup trucks. In fact, only one of the top five was a passenger vehicle – the Honda Accord at number five. Data shows that the following cars tend to speed the most:
Top 15 Vehicles Driven by Speeders in Fatal Crashes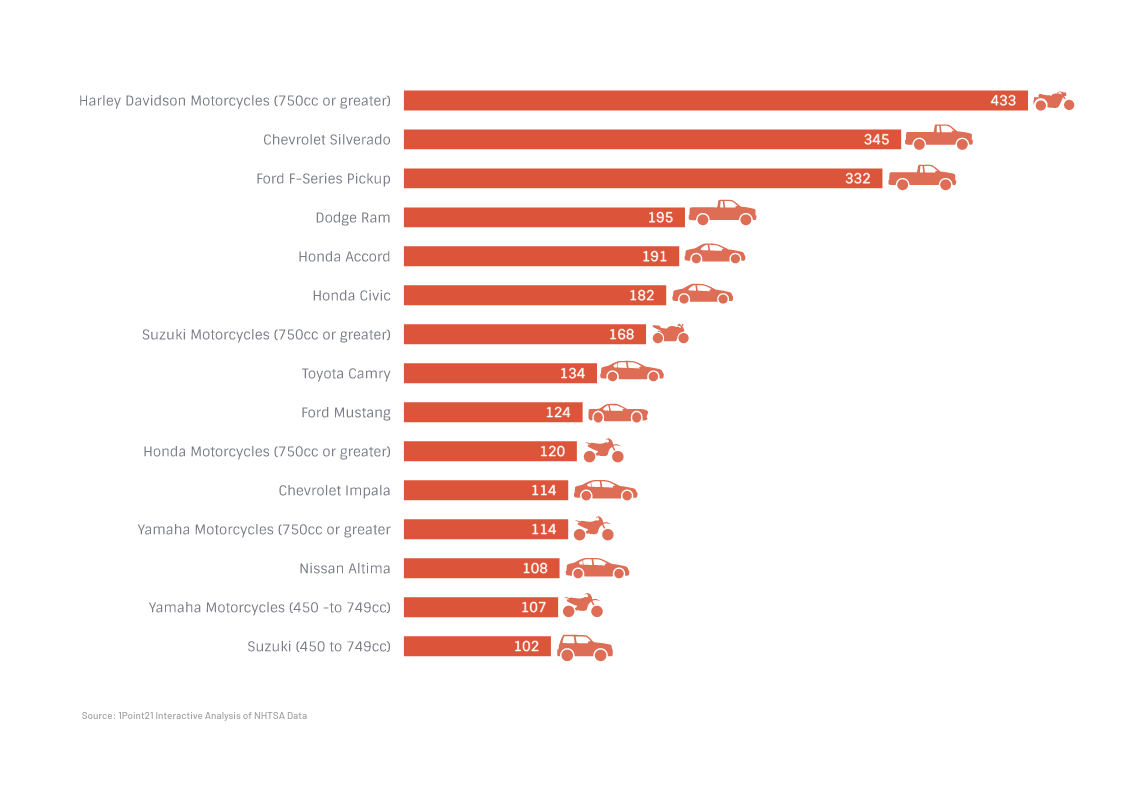 Street Racing
We also examined crashes where police reports indicated that road racing was involved. While only 1.4 percent of the speed-related total, there were 116 crashes involving racing. These crashes claimed the lives of 153 people. This is especially interesting as there has been very little research or record-keeping on street racing, which some have estimated to claim the lives of around 50 people annually. The fact that 2018 shows over three times that number may warrant further study.
15 states recorded three or more fatal crashes involving crashing:
California:

18

Texas:

14

Illinois:

8

North Carolina:

7

South Carolina:

6

Virginia:

6

Washington:

5

Arizona:

4

Pennsylvania:

4

Florida:

3

Georgia:

3

Iowa:

3

Kansas:

3

Michigan:

3

Missouri:

3
Road Rage and Aggressive Driving
In 2018, road rage and aggressive driving were factors in 402 fatal crashes, killing 473 people.
The NHTSA defines aggressive driving as "the operation of a motor vehicle in a manner that endangers or is likely to endanger persons or property." In this data, aggressive driving behaviors can include following too closely, changing lanes without caution or signal, running a red light, improper passing, and road rage.
Only nine states reported more than 10 fatal crashes involving these behaviors:
Indiana:

75

Alabama:

67

Colorado:

57

South Carolina:

57

Wisconsin:

41

Connecticut:

20

Arkansas:

11

Texas:

11

New York:

10
When Do Speed Related Crashes Occur?
In 2018, speed and road rage related fatal crashes occurred the most over the weekend: Saturday (1,637) and Sunday (1,532), followed by Friday (1,272). Overall, people drive more cautiously during the workweek, with Tuesday (988) marking the safest day on the road and Saturday the least.
While fatal crashes involving these behaviors peaked at midnight and at 3 a.m., the four-hour block between 6 p.m. and 10 p.m. were the four deadliest hours across all days. This block seems to fit in with the evening rush hour period, where traffic volume – and driver frustration – is likely at its peak across the country.
Total fatalities reported across all days in 2018 during 6:00 p.m. to 10 p.m.:
6:00 p.m.: 547
7:00 p.m.: 522
8:00 p.m.: 550
9:00 p.m.: 538
10:00 p.m.: 515
This compares to the safest hours, which were 4 a.m. to 10 a.m.
When do Speed Related Crashes Happen?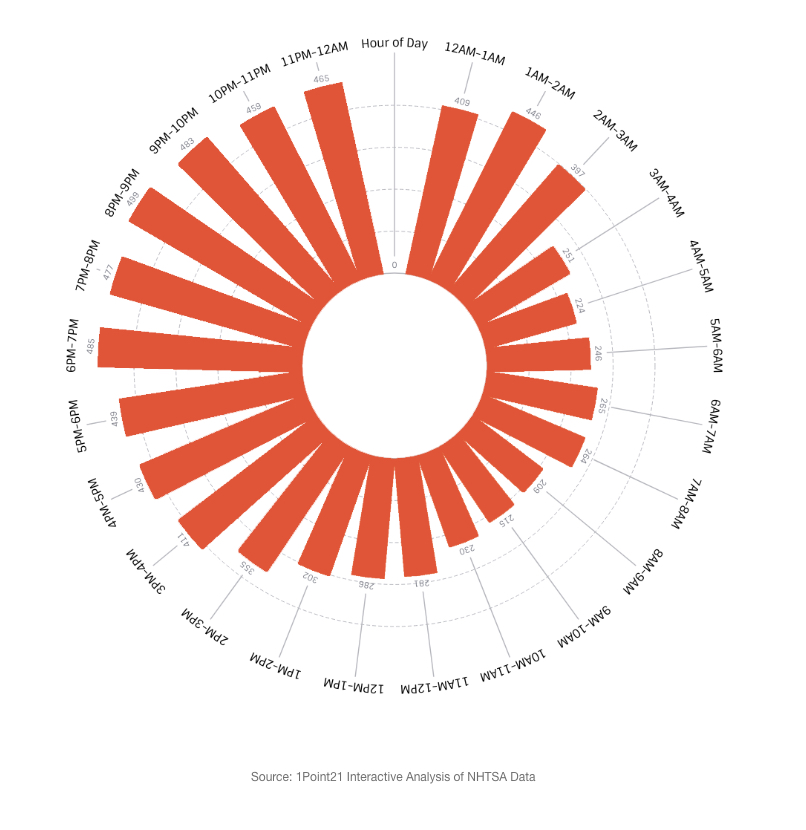 When is the Angriest Time of Day?
Fatal crashes involving road rage by hour